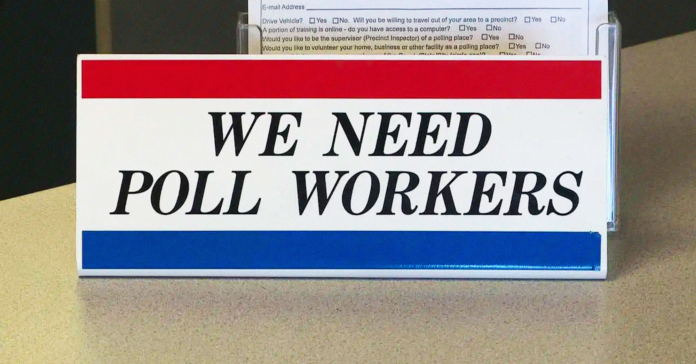 Local election officials are dealing with myriad issues ahead of November's general election. One lesser-known problem that continues to concern them is a shortage of poll workers.
The lack of available poll workers for this week's primary runoffs meant that fewer polling locations were open in several Texas counties.
Given the current state of the pandemic, it is unlikely things will be back to normal by November. And, if the primary runoff is any indication, Texas will need a greater number of election workers to safely shepherd the larger number of voters expected to turn out for the presidential election.
If you are interested in becoming a poll worker, Reform Austin has put together a guide with everything you need to know about the process.
First, what is an election worker or poll worker?
Poll workers manage the polls on Election Day and during early voting to ensure voters are able to exercise their rights in an honest and well-organized manner. They help set up and take down equipment, check in voters, answer questions and help voters with the voting machines.
Who can be a poll worker?
Just about anyone can be an election clerk or poll worker! And you get paid for it!
To be eligible, you must be a U.S. citizen, a qualified voter and not be employed by, related to or serving as campaign treasurer or campaign manager for a political candidate.
You will need to undergo training.
Even 16 year olds are eligible to serve as long as they get permission from their parent, legal guardian or school. Like everyone else, they will need to complete the training. And like everyone else, they will be paid for their service, but they also receive an excused absence from school.
Poll workers earn $10 an hour.
If you are bilingual, that's even better because non-English speaking voters need help at the polls, too.
How do I sign up?
You can self-register for the poll worker training course via the Texas Secretary of State website here, or by expressing interest with your local county clerk. A list of county clerks is available here.
Once registered, you will be given a username and password and will have immediate access to the training, which is available free of charge 24 hours a day, seven days a week.
Should you have any questions about the online poll worker training, email PollWorkerTraining@sos.texas.gov or call 1-800-252-8683.
Other resources
Handbook for Election Judges and Clerks
Tarrant County Poll Worker Application
Harris County Poll Worker Application
Dallas County Poll Worker Application
Poll Workers FAQs