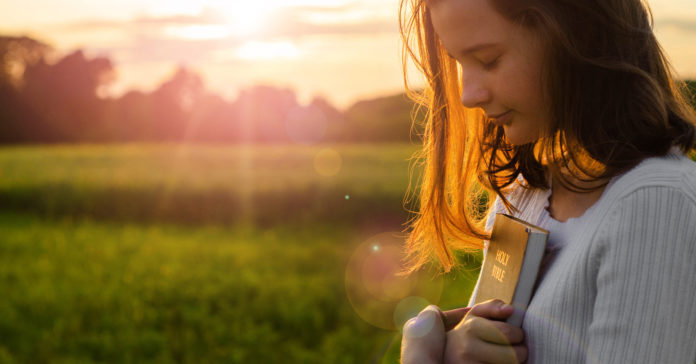 Sarah Bailey is the first to admit she hadn't done her homework when she voted for Donald Trump in 2016.
"I wasn't very educated politically," the 34-year-old Denton county resident said about the decision. What little coverage she had seen of the race consisted of negative stories about the Democratic nominee, former Secretary of State Hillary Clinton. Add to that her conservative Evangelical upbringing, and Bailey, like many white Evangelical women, felt the decision was a clear though unpleasant one.
Four years later, her feelings have shifted a bit.
"'Hold the phone. Like, P.S. this is insanity,'" she said of Trump's presidency. Though raised in Southern California, a soft twang tugs on her vowels as she speaks, her clip increasing with her dismay. "Things in our country were finally happening [under Trump], where I was like 'I'm sorry, if you're a believer, you can't stand for this.'"
This description of Trump's behavior — and particularly his treatment of refugees — as being fundamentally at odds with their Christian values was the unanimous refrain among the Texas women interviewed for this story. In fact, most of these current and former Evangelicals found it hard to articulate just how much they dislike the president, reverting to words like "terrifying" again and again.
Whether these women constitute a voting bloc or a blip is hard to say. What is clear, however, is that for the first time in decades, Texas appears to be up for grabs heading into a presidential election.
A recent statewide presidential poll put out by FOX News showed presumptive Democratic nominee and former Vice President Joe Biden leading — if only by a point. The RealClearPolitics average of multiple polls, meanwhile, pegs it as a 2.5-point race.
Eastern Illinois University's Dr. Ryan Burge may have a clue as to why. On June 22, the political scientist tweeted out a bombshell graph showing Biden narrowing Trump's advantage among white evangelicals by 20 percentage points over the previous two months.
To pull off a win in the Lone Star state, Trump can't afford to lose any more people like Sarah Bailey. But there are many more like her.
Voting for God
Growing up Evangelical, Tess Clarke came to view voting for GOP candidates as an extension of her worship.
"In the environment I grew up in, that's what Christians do is vote for Republican presidents because of abortion, conservative values and religious freedom," the Dallas interior designer said.
The other interviewees agreed, citing abortion again and again as the overwhelming concern touted by religious leaders and fellow laity.
"You're taught from a young age that you die on the hill of abortion," Bailey explained.
With the decision of how to vote made for them, these women largely opted out of political engagement altogether, showing up to vote but skipping the debates over individual issues and candidates. Enabling this complacency was the feeling that the party — God's party — was in good hands.
Republican presidential candidates were war heroes, fellow Texans, and mild-mannered businessmen with histories of public service. Then came Trump, a foul-mouthed reality TV star with a penchant for porn stars, and suddenly they weren't so sure.
The exact timeline of these women's political awakenings varied. Some, like Bailey, voted for Trump, while others backed Clinton or a third-party candidate. Still others sat out the 2016 presidential election altogether. Regardless, each of one of them describe a moment when, as Clarke put it, "the scales fell off my eyes."
For Dr. Karen Smith, a Houston doctor who voted for Sen. Ted Cruz in the 2016 primaries, the more she listened to Trump, the more convinced she became that he would "tear our country apart racially."
Meanwhile in Fort Worth, retired nurse Beth Champ began fact-checking the debates only to come to the conclusion that Trump was someone who couldn't be trusted to tell the truth.
"I thought, I can't support a liar."
Perhaps the most galvanizing issue, however, was that of Trump's treatment of and rhetoric regarding refugees.
"It just wasn't on my radar before the election," Sheila Gerrald explained. Four years later, the mother of three teaches English to refugees in the Fort Worth area, as well as helping to set up apartments for new arrivals. As she put it, the 2016 election and Trump's presidency helped her realize "there are more human rights abuses in our country than abortion."
For Clarke, who started a nonprofit in support of refugees in 2008, her transformation has been less a result of discovering a passion for new issues, as much as the connection between them and the way she votes. Spurred on by Trump's win and subsequent "Muslim ban," she and her husband set about researching the connection between refugee resettlement and the decisions coming out of Washington. Their newfound curiosity didn't stop there. Together they studied the ties between all kinds of social issues and public policies before Clarke came to a conclusion that would have felt blasphemous just a year or two earlier.
"I've spent so much of my adult life going on mission trips, walking with people in the margins, starting a nonprofit organization, and doing all of these things because I want good for people," she said. "And then I'm realizing the policies that are so often put in place by the Republican party are actually harming people I'm rooting for."
Bailey, whose journey mirrored Clarke's in many ways, put it even more succinctly: "It was the first time I felt like, hold up, politics really do affect social justice, and I really need to use my voice in my vote."
The Wilderness
The more these women felt compelled to speak out against Trump and his political allies, the more isolated they found themselves.
"There's definitely been a rift in the family over it," lamented Lancine Aday, an interior designer from Flower Mound. At one point a man from church went so far as to invite her husband to coffee with the sole purpose of telling him to reign her in.
"Like it was 1950 or something."
For Beth Champ, the ostracization took place even closer to home. After nearly 40 years of marriage, she and her Trump-supporting husband have all but stopped talking to each other.
"It's just very much eroded our relationship."
This was the lonely landscape where many of these women found themselves when, starting in 2017, murmurs began to spread of a man from the west come to heal the state's political rift. It didn't matter that you couldn't have tortured the name "Trump" out of him. Between his talk of working across the aisle and youth-soccer-coach vibe, it was impossible not to draw a comparison between Beto O'Rourke and the man in the White House.
For nearly all the women interviewed, O'Rourke wasn't only the first Democrat they ever voted for, but the first politician they'd ever felt so enthusiastic about. Champ, the nurse out of Fort Worth, actually sighed at the mention of his name, saying she found herself watching his live streams for hours at a time during his bid to unseat Sen. Ted Cruz. Aday started wearing her Beto shirt in the grocery store and the post office, albeit with a sweater just in case she happened to run into a "die-hard Republican" friend. Emily Mooney, also an interior designer from the Dallas area, went so far as to put a Beto sticker on her car — only to discover a second in her church parking lot.
As she told The New York Times at the time, "I was like, who is it? Who in this church is doing this?"
The article went on to quote Bailey speaking out against the Dallas pastor Robert Jefress for his full-throated support of Trump. Rather than criticism, Bailey said her decision to speak out drew expressions of gratitude from other women — and in particular Black women — in her own congregation.
In addition to the article, Clarke appeared in an episode of the Times's podcast "The Daily," in which she talked about the race along with her Cruz-supporting father. Soon she was hearing from people all over the country about how they'd heard their conversation and had felt less alone because of it. "I started to go, 'Oh, wow.' I'm finding my tribe," Clarke said.
For two years, these Texas women had wandered the political desert only for O'Rourke to pull up in a minivan, windows down and music blasting, and offer them a ride. Once inside, they found it brimming with people they recognized from the grocery store and their kids' summer art camps. And herein may be O'Rourke's most lasting legacy: shattering the stereotype Texans had of themselves and each other as universally gun-loving, Rachel Maddow-hating Conservatives who only cared about keeping taxes low and abortion clinics closed.
This remained true even through his eventual 2.6-point loss to Cruz. As Aday put it, "Before him, everybody just knew without question [Texas] was blood red and it would never, ever change." By closing the gap left by Hillary Clinton by more than two-thirds, Beto sent the message to Republicans that "guess what guys. You don't have this in the bag."
Church Before State
Following his defeat, O'Rourke returned to El Paso, where he took some hard-earned time off to be with his family before a brief and hard-to-watch run for president. Through it all, these women have remained as engaged as ever in their political and community activism.
The reason goes back to their motivation, which they say is rooted in something deeper than a single campaign or candidate.
"One-hundred percent it was my faith driving my political change," Mooney said. "It was being concerned about income inequality and how we treated the foreigner, the laying down of oneself for the brother. It was realizing that a lot of these freedoms I thought I had to cling to so tightly were coming at the expense of other people in this country. I don't accept that as a Christian."
Along with two friends, Aday started a Facebook group called "Christians Who Seek Change," which she describes as both a safe place for people to educate themselves about issues and learn how to get involved. Less than a year in, the Dallas-based online community has nearly 200 members and continues to grow at a steady clip.
"A lot of the people coming in really were die-hard Republicans, and they're just starting to see, 'Oh, maybe I was wrong. Maybe Trump doesn't hold the values I thought he did, and that maybe the Republican Party has left me," Aday said.
Long-time activist Jill Curtis was one of the first to join the group, where she's been active in sharing her skills and training with newcomers. "I think people are still excited about the concept of being able to use their own mind to vote," she said. That, and the feeling that they are no longer alone in their dissent against Trump and the Republican party generally. "When new people come in, they're so happy. They're like, 'I was just crying reading these posts.'"
Among the group's main focuses at the moment is combating systemic racism, with members involved in planning and supporting local Black Lives Matter protests and reading Ibram X. Kendi's book "How to be Antiracist" together.
"It's the Lord that's going to start unveiling people's eyes, and I think he's doing it now," explained Sarah Bailey, a design consultant. "I think there's a movement and I'm hoping that it picks up." 
2020 & Beyond
Stories like these are catnip for Democrats, who have been salivating over Texas for years. Still, there are reasons to be cautious.
As Southern Methodist University's Dr. Matthew Wilson pointed out, zoom in the microscope enough, and one can find just about any voter anomaly one wants. Absent specific, statewide polling on the matter, it's impossible to say for certain whether these women represent a decisive voting bloc within Texas or a mere blip.
Nevertheless, Texas Christian University's Dr. James Riddlesperger sees reason to believe stories like these are worth following.
"We used to say all politics is local," he said. "That is just no longer the case. More and more the things that are true nationally are also true in Texas." And what is true nationally is the "gradual fading away of Evangelical women from the Trump candidacy" on account of Trump's misogyny, racism and general vulgarity.
"Culturally, there are some men who 'Wink, wink, nod, nod, chuckle' about President Trump having paid off a porn star or two or talked about grabbing women by the genitals and so forth," Riddlesperger said. "But for women, I think it's a deeply personal thing that really is unrelated to whether they're Evangelical or not."
Even if these women increasingly constitute a voting bloc, however, there is almost no scenario in which they help decide the outcome of the 2020 presidential election. That's because while Texas may be a swing state, it won't be a decisive one.
As Wilson put it, "There are scenarios in which Joe Biden wins Texas, but those are scenarios in which Joe Biden is winning in a landslide nationally, which, at this stage, is possible."
What sets Texas apart from the other swing states and makes it worthy of close study, then, isn't so much that it would usher in a new presidency — but a new political era.
"The Republican Party would have to compete on a third front, and that would be a disaster for them," Dr. Brandon Rottinghaus of the University of Houston explained. "It would be a wound that might not be suturable."
Disaffection of white Evangelical women should worry Republicans, Riddlesperger stressed, not only with respect to 2020 but well beyond. For one, the insurrection isn't just against Trump, but the entire Republican Party which has become "a subsidiary of Trump Inc."
What's more, these women are unlikely to be quick to forgive and forget.
"What voters do is disaffect from the party they've been affiliated with, that is become Independents, but rarely do we see them then go back," he said, explaining they're far more likely to remain in the Independent camp.
This seems to be the case for Sheila Gerrald, who described voting for O'Rourke as the "gateway" for future elections. "My vote going forward is going to be based on the individual and not what party they represent," she said.
Give others time, Riddlesperger continued, and they will "begin to identify more as Democrats."
Case in point: "Never Trumper" Smith now holds the titles of precinct chair, co-chair of the Travis County Democrats' training committee, and rural outreach for the Democratic Party. As she put it: "I'm all in."