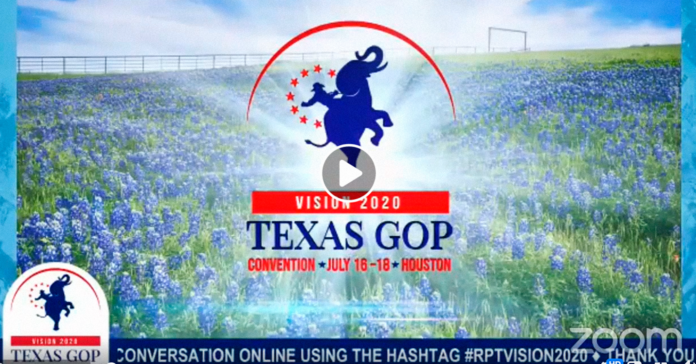 After suffering technical difficulties and even some sort of cyberattack, the virtual Texas GOP convention wrapped up Sunday evening after delegates voted to elect former Florida Congressman Lt. Col. Allen West as the party's new chair. West replaces James Dickey, whom delegates blame for the less than smooth state convention.
"I love the Republican Party and all of the grassroots Republicans who make us great," Dickey wrote on his Facebook page. "We are truly a bottom-up party here in Texas, written in our rules to be that way, allowing our voices to be truly representative of those who make our party great. I wish Lt. Col. West the very best in this role. Thank you for the honor of serving as your chair. Let's win in November."
"I just want to say how truly humbled I am by this honor, and that I will work hard for Texas and Texans," West tweeted. "I would like to thank my amazing and dedicated team, as well as an incredible number of supporters. Thank you all! Now the work begins … ."
The congratulatory messages poured in on social media, including a short tweet from President Donald Trump that read, "Congratulations Allen, great job!"
West outspent and outcampaigned Dickey. A large chunk of West's money came from Republican megadonor Richard Uihlein, who was recently profiled by Politico.
Texas Democrats reacted in true partisan form, calling West a "right wing shock jock."
"We're disgusted but not surprised that Texas Republicans chose a certified racist conservative hardliner like Allen West as their new chairman," stated Democratic Party of Texas Chair Gilberto Hinojosa. "West is everything that is wrong with the Republican Party and brings to light their failures on building an inclusive, welcoming party that is deliberate and thoughtful in handling crisis situations. He'll fit right in with the modern day Texas Republican Party."
From the beginning, the convention was plagued by technical issues. At one point over the weekend, Dickey mentioned that the online voting system was the subject of a cyberattack. Delegates took to social media to complain that they couldn't access the system.
In the end, the party did get most of its business accomplished, including the usual rallying cries from the state's elected GOP leaders as well as the designation of delegates to the national GOP convention later this month.
With five recent polls showing Trump and Democrat Joe Biden running neck-and-neck, U.S. Sen. Ted Cruz had a reality check for party faithful, warning that Texas isn't guaranteed for the Republicans in November.
"Texas is the single biggest target for the left in 2020, politically speaking," said Cruz in his video message. "Texas is the key for national domination for years to come. If Democrats win Texas, it's all over."
Cruz' comments stood in stark contrast to the more optimistic posture of Biden when he told Texas Democrats in June that Democrats have a real chance this year.
Gov. Greg Abbott, Lt. Gov. Dan Patrick, Texas Land Commissioner George P. Bush and others also spoke by video to the delegates watching online.
The convention did not yield a party platform. That is to be taken up at a later date that has yet to be chosen.
The Republican Party of Texas is considered the largest state GOP organization in the nation. Approximately 6,000 attendees were expected for the party's convention at Houston's George R. Brown Convention Center until Mayor Sylvester Turner stepped in and said no to an in-person event while COVID-19 is raging in his city. The party tried numerous legal avenues to thwart Turner. The final ruling came late Friday when a federal appellate court sided with Turner. By then, the party had already decided to proceed with a virtual weekend gathering.