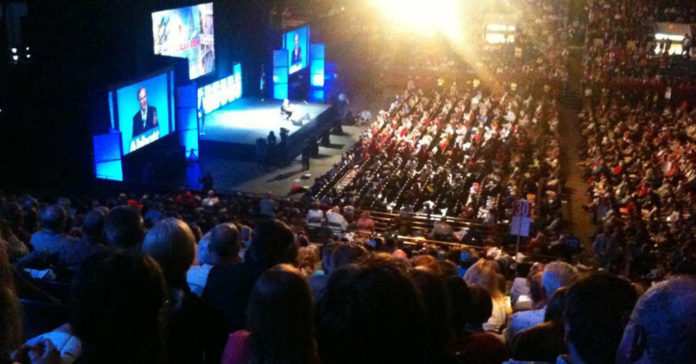 In a totally unsurprising move, the Republican Party of Texas Executive Committee voted to proceed with an online state convention. After losing multiple times in the courts, including the Republican-dominated Texas Supreme Court, there were really no other options left.
The party held in-person committee meetings at the Marriott Marquis and provided access for viewers online Monday.
"We have had a wonderful start to our state convention week in Houston with the Temporary Rules, Platform and Legislative Priorities Committees meeting in-person," stated party chair James Dickey. "We look forward to continuing our important work this week in an online convention, including adopting our platform, electing our party officers, electing our national delegates and alternates and the pinnacle moment of electing the presidential electors who will proudly cast Texas' 38 electoral votes for President Donald J. Trump!"
Houston Mayor Sylvester Turner and Houston First, which manages the George R. Brown Convention Center, where the convention was to be held, canceled the event due to concerns about increased spread of COVID-19 from having that many people together in one place.
"These four proceedings before 10 different judges have given the RPT several days in court, and it has lost at every turn. As I said from the beginning, the decision to cancel the convention was not political. It was driven by science and data during a pandemic," Turner said. "My job is to protect Houstonians during a public health crisis, and that includes the convention delegates, service workers and the general public."
Information provided to attendees indicates delegates and alternates will be assigned a unique electronic credential and voting during caucuses and general sessions will occur online using Meeting Pulse.
The party's steadfast insistence on an in-person meeting cost it the sponsorship of the Texas Medical Association and the Texas Craft Brewers.
As is happening in the rest of Texas, COVID-19 cases and hospitalizations have been breaking records almost daily. Given the numbers, Turner and numerous others had repeatedly asked the party to take its convention online.
The Texas Democractice Party helds its state convention online last month, and it turned out to be very successful with new fundraising records set.