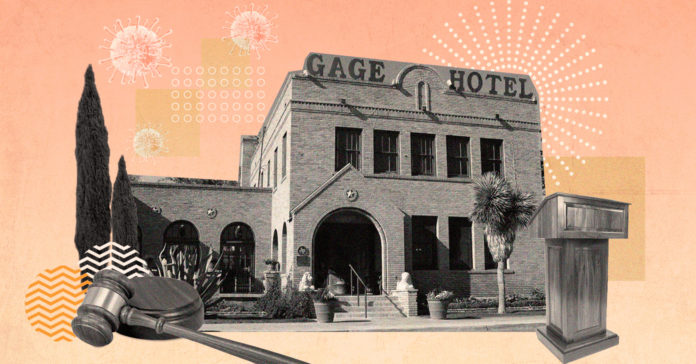 Nearly every sector of the American economy has been affected by the coronavirus pandemic, however, few among them have been devastated like Texas' hospitality industry.
In one of the first lawsuits brought by a business because of a local order, the owner of the Gage Hotel in Marathon, Texas has filed suit against Brewster County Judge Eleazar Cano and commissioners over the county's mandate to close hotels and short-term rentals in an attempt to mitigate the spread of COVID-19.
When the order was made, there had been no reported coronavirus cases in Brewster county and therefore the federal suit argued there was "no factual or legal basis" for the hotel's closure. However, since filing, the total number of known cases has increased to one.
In addition, the lawsuit considers the fact that Gov. Greg Abbott, who earlier in March issued a disaster proclamation in the state over the novel coronavirus, did not include hotels as a required closure.
However, several local health and government officials have expressed concern over keeping a tourist destination open.
Ekta Escovar, a doctor at Big Bend Regional Medical Center and a member of the local COVID-19 task force, has spoken about potential dangers of widespread infection in the district.
The suit mentions Escovar and states that she does not specialize in infectious disease and thus her concern is an expression of "personal fear … without any scientific support."
In his action, the owner of the Gage Hotel, J.P. Bryan, stated that the "Gage Hotel has been a principal source of income for Marathon," and a "major income generator for Brewster County, Texas." The lawsuit expressed concern that if the Gage was forced to close, its employees might "find other jobs and be permanently lost to the hotel workforce."
This is a major worry for many of Texas' industries. Having to cope without clientele or compensation has the potential to close many businesses — especially those that are independently owned and local, as many without a financial cushion have closed already.
The American Hotel & Lodging Association has predicted a 44% loss of jobs in Texas hotels.