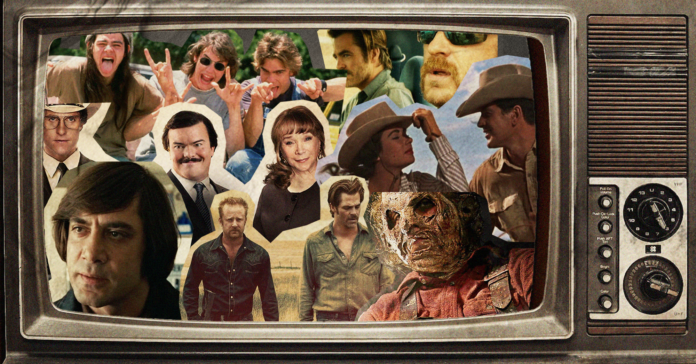 Welcome to Texas, "the mighty colossus of the southwest, a land of infinite variety and violent contrasts," to quote the classic movie "Giant."
Out of Texas' expansive and varied landscape come many stories with their own unique charm. There is no single movie that can encapsulate this big, diverse state, but many try and, together, maybe they succeed.
In no particular order, here are a few Texas films for you to enjoy while you stay home in an effort to stay safe during the coronavirus pandemic.
"No Country for Old Men"
The 2007 crime thriller noir set in West Texas was adapted from the Cormac McCarthy book and directed by Joel and Ethan Coen. Slow-building and hard-hitting, it is one of the best movies of the past decade. Javier Bardem's performance as the silent cartel hitman Anton Chigur is especially good. If you have already seen "No Country for Old Men," definitely give the Coens' "Blood Simple" (1984) a watch. It is another Texas masterpiece. Available on Hulu with a Stars add-on.
"Office Space"
Director and native Texan Mike Judge perfectly encapsulates the neverending doldrums of office life in this 1999 comedy. Watch everyman Peter Gibbons (played by Ron Livingston) try to navigate his way out of misery in this relatable masterpiece. Jennifer Aniston co-stars. While working from home may seem daunting, at least no one asks if you "have a bad case of the Mondays." Available to rent or buy from Amazon.
"Texas Chainsaw Massacre"
Despite its surprising lack of chainsaws, this 1974 film remains a horror classic for a reason. Though it's a horror film, it is arguably tied to the death of industry in rural Texas. Maybe it isn't the best representation of the state, but certainly offers an incentive to stay inside. Available for free on Tubi.
"Tree of Life"
What better place to contemplate human existence than small-town Texas? While this 2011 may not be for everyone, it features an all-star cast that includes an especially compelling performance from Brad Pitt. Available on Hulu with an HBO add-on.
"Bernie"
Jack Black plays a small-town East Texas mortician who is so lovable and charming that he almost gets away with murder. Austin-based director Richard Linklater (also known for "Boyhood," "Before Sunrise," "Slacker" and many other movies) provides an exposé on the true power of the small town Texas rumor mill. Matthew McConaughey also graces us with his presence as a hot-shot district attorney. Available free on Tubi, YouTube, Crackle and Vudu.
"Giant"
This 1956 epic Western drama directed by George Stevens has a stunning cast featuring James Dean, Rock Hudson and Elizabeth Taylor. "Giant" follows the story of a rancher who struck oil and tracks his trajectory. Flawed for sure, this iconic movie is quintessential Texas. Available to rent or buy from Amazon.
"Dazed and Confused"
In times like these, a little nostalgia never hurts. This Austin classic will take you back to the good old days of teenage drinking, revelry, and never truly experiencing the consequences of one's actions. It's also another Linklater movie and the cinematic birthplace of Matthew McConaughey. All right, all right, all right, you can watch it on Hulu with a Stars add-on.
"Hell or High Water"
This 2016 movie follows two desperate brothers as they execute a series of heists across West Texas. The setting and character work blend to make a fantastic film that got four Oscar nominations. Available on Netflix.