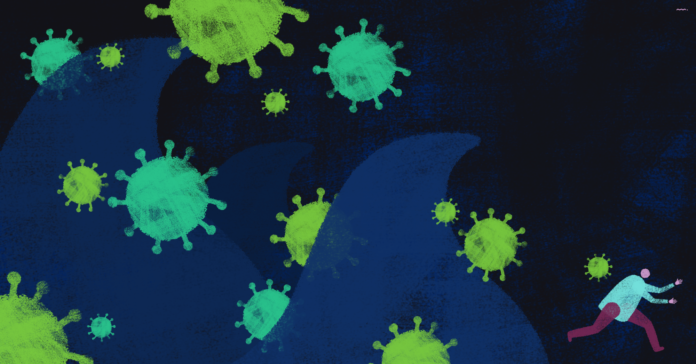 A second wave of coronavirus will come sooner or later. How will Texas handle it?
While much is still uncertain, a second wave will come, said Dr. Peter Hotez, dean of the National School of Tropical Medicine at Baylor College of Medicine in Houston and co-director of the Texas Children's Hospital Center for Vaccine Development.
"Exactly what a second wave looks like and whether it comes later this summer or fall is unclear," he said Thursday. "I totally understand the urgency of reopening the Texas economy, but the key is tying these plans to the establishment of a new COVID-19 public health infrastructure not yet in place in many of our Texas cities. Otherwise, our economic recovery won't be sustained, and we could relapse."
Gov. Greg Abbott announced last week that the first phase of reopening Texas begins May1. Abbott also said that he plans to make another such announcement in mid-May.
Dr. Anthony Fauci, director of the National Institute of Allergy and Infectious Diseases and presidential adviser, agrees that a second wave is inevitable. He said Wednesday on CNN that being prepared for the second wave is crucial to preventing more infections and deaths.
Testing needs to increase, the federal government and the states need to have a "productive partnership," and there has been a problem getting tests to the people who need them, Fauci said.
"From what we're hearing, from the people in the task force who deal with the major firms who make the tests, we will have a very very increased production," in May and June, Fauci said.
Centers for Disease Control Director Dr. Robert Redfield said a week ago that the second wave of COVID-19 will collide with flu season which could make the pandemic even worse.
The coronavirus is being compared to the 1918 Influenza Pandemic, which went through three stages, starting in March, subsiding and relaunching again in the fall. The second wave was far more fatal than the first. There was a third wave in the winter and spring of 1919. The Centers for Disease Control and Prevention's website has more information on this pandemic that about a third of the world's population contracted. It killed at least 50 million people. 
While Texas prepares for Abbott's first phase of reopening, roughly two dozen counties have seen spikes in coronavirus cases in the last week, the Austin American-Statesman reported. 
Texas has, though, been seeing fewer daily new cases statewide.
Gerald Parker, director at the Texas A&M Bush School of Government and Public Policy Scowcroft Institute Pandemic & Biosecurity, told KBTX this week that Texas is managing the pandemic and thinking ahead.
Parker said Texas has done well with putting enough hospital capacity in place. He said we are making strides in diagnostic testing.
He is optimistic that Texas will have treatments available in the next three to six months.
"We are researching to repurpose other antivirals, develop new antivirals and antibody treatments," Parker said.
Vaccines will take longer, Parker said, and he predicts that it will be two years until we have one. Fauci has given shorter estimates.
Parker said Texas is a leader and has an opportunity to be the model for the nation, and perhaps the world.
As Texas enters a new stage, now is not the time to let our guard down, keeping hygiene habits going shouldn't go to the wayside.
As businesses start to reopen, the World Health Organization website reminds us that Tuesday is Hand Hygiene Day. The theme this year is "SAVE LIVES: Clean your hands." 
"The campaign also makes a call to action to policy-makers to provide safe work environments for nurses and improve staffing levels," the WHO website states.