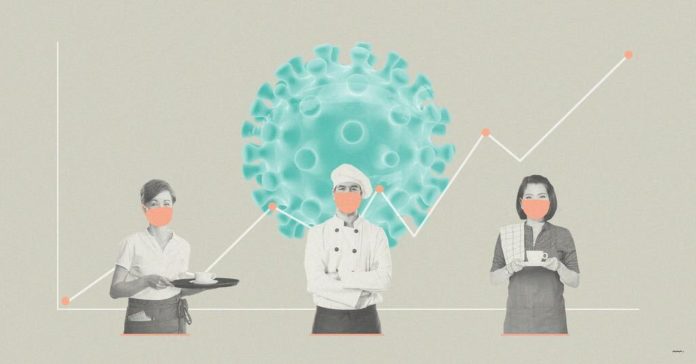 With a patchwork approach to masks emerging around the state, the Texas Restaurant Association on Friday urged implementation of a statewide order. The industry advocacy group appears to be the first nongovernmental entity to ask for a statewide order.
TRA President and CEO Dr. Emily Williams Knight said one set of rules that apply to everyone would eliminate public confusion and provide cover for businesses that are on the front lines of enforcement efforts.
"I think a statewide solution at this point is the right thing to do, and we would certainly ask the governor for that consistency when it comes to masks because we have new information that shows this will help stop or slow the spread of COVID-19," said Knight.
As of Friday, every major metropolitan area in the state has implemented or is planning to put in place orders requiring businesses to require customers and employees wear face masks. Individual cities and counties began taking action on their own after Gov. Greg Abbott's repeated refusals to do it on a statewide basis.
Increasingly, the restaurant industry is in the headlines as owners decide to let the public know when they have employees who test positive for COVID-19. This is happening in the absence of any governmental requirement that they do so.
The TRA wants the public to know that the industry, as a whole, is going above and beyond what is required to ensure the health and safety of customers and employees.
"Please know that when a restaurant temporarily closes due to a case of COVID-19, it's because they are taking every precaution to protect our communities. It is a sign of care, not a sign of failure," said Knight. "Portraying them in a negative light for acting responsibly only encourages other businesses to cut corners with our health and safety."
TRA Vice President of Government Affairs and Advocacy Kelsey Erickson Streufert points out that COVID-19 cases are not unique to restaurants, but they may be in a better position to help prevent spread of the disease because they are used to following strict sanitation requirements and going through health inspections.
Next week, the TRA will be unveiling a comprehensive training, inspection and notification program for its members. The program was developed in cooperation with Dallas Community College.
As of a week ago, restaurants in Texas are allowed to operate at 75% of normal occupancy. They are also required to adhere to specific social distancing and health protocols.
Ellis Winstanely, who owns El Arroyo Restaurant in Austin, said the additional requirements have probably increased operating costs by 10 to 20%.
If you notice that a restaurant is not abiding by the protocols, Knight recommends having a conversation with management or contacting the TRA.
The association has estimated that as many as 25% of Texas restaurants will not survive the pandemic.