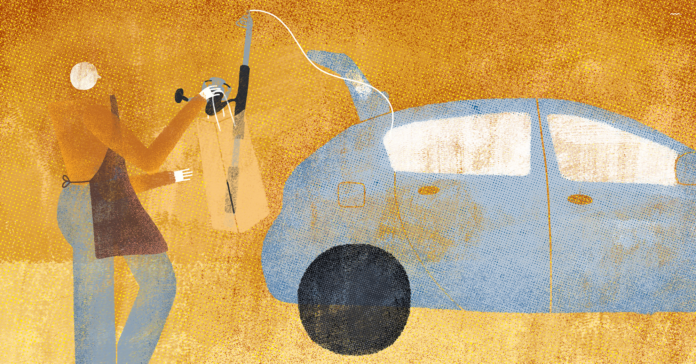 Retailers in Texas can start offering curbside pickups today. The partial reopening is part of Gov. Greg Abbott's phased plan to help the state's economy. Malls and shops will fill orders while maintaining social distance.
Here is how malls and stores will connect their products with consumers. Shoppers will need to bring order confirmation numbers and a form of identification such as a driver's license.
Malls
Malls across Texas have retail-to-go plans, but not all stores are involved.
Memorial City Mall in Houston released its store list Thursday. Curbside pickup will be open from 11 a.m.-5 p.m. orders will be brought to shoppers' cars, KPRC reported.
The Houston Galleria will provide retail-to-go details on its website, according to KHOU.
In San Antonio, 10-15 stores will participate in retail-to-go at North Star Mall, KENS reported.
Here's a list of retailers at the Dallas Galleria that are offering curbside pickup from 12 to 6 p.m. Customers are encouraged to follow the rules for pickups, which include staying in their cars, WFFA reported.
Texas-based Retailers
Ready to get creative while staying home? Or are you running low on supplies? Michaels, which started as a small store in Dallas in 1973 and has become a national giant for craft supplies, has a to-go plan in place. When you order online, you will receive an email with the store's phone number. After you have arrived and parked, you call the store number, press 3 and provide your order number and the name on the order. Your items will be brought out to you. Curbside pickup is available until 6 p.m. unless the store closes earlier.
Katy, Texas-based Academy Sports + Outdoors has a plan, too. When ordering online choose the "Pick Up" option at checkout. When your order is ready, you will get an email or text message. When you go to pick up your order, bring a valid U.S. government-issued ID with you, along with your confirmation email or order number. After you park in a designated parking spot, tap the link in your email or text to let the store know you've arrived. An Academy team member will bring out your items.
Austin-based jewelry designer Kendra Scott is offering discounts and fundraisers starting Friday. 
"Starting Friday, April 24, 20% of proceeds from all curbside purchases will be donated to Texas Hospitals, and 100% of proceeds of the Texas Charm from all online and curbside purchases will go back to support local Texas Hospital COVID-19 Relief Funds," the designer said Thursday through a publicist.
"Unfortunately, Texans and Americans are experiencing great hardship due to the coronavirus. I am humbled by Governor Abbott's request to join his COVID-19 strike force and work alongside so many other great Texas leaders to forge our path back to a sense of new normalcy and re-opening the economy as quickly and as safely as possible," the Austin based jewelry designer's statement said.
Little Stores
Many smaller stores and boutiques in Texas have suffered during the coronavirus pandemic. Some local boutiques have been virtually connecting with customers during this time and they are preparing to offer to-go options, too, the Houston Chronicle reported. Shop owners are getting creative with Zoom and online sip-and-shop virtual events.
In an email on Thursday, Ebele Iloanya, the owner and designer of MODChic Couture at Sugar Land's Town Square, said being closed for a month is challenging, but her shop has implemented new ways to connect with shoppers.
"We have been reaching out to our clients via SMS (direct messaging), newsletters and WhatsApp. We introduced WhatsApp messaging during this pandemic. Our clients have always had the option of online shopping," she wrote.
"We have kept our spirits up during this period by knowing that we are contributing in our own small way to flattening the curve and shutting in-store operations regardless of the huge impact on our business. We are also thankful that our clients have continued to support us online," Iloanya said.
What's next
Abbott has been dropping hints about the next steps of the reopening of Texas.
Meanwhile, this week President Donald Trump had criticisms for Georgia Gov. Brian Kemp, who opened salons and tattoo parlors, according to NBC News. In Texas, Dallas Mavericks owner Mark Cuban said that if the players have to wear masks, that could mean it is too early to play basketball, The Dallas Morning News reported last week.
Abbott confirmed Thursday that his next announcement on opening businesses will be on Monday, Quorum Report reported.