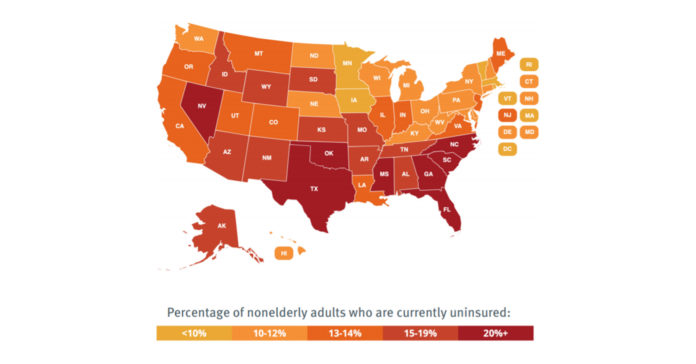 Already the uninsured capital of the nation, access to health care in Texas has worsened during the pandemic.
A new study by the National Center for Coverage Innovation at Families USA, a nonprofit health care advocacy organization, found that more than 650,000 Texans lost their health insurance when they lost their jobs between February and May of this year. Only California had more newly uninsured people. With these new additions, nearly three of every 10 adult Texans under age 65 are now uninsured. That is more than any other state.
Nationwide, a record 5.4 million workers have become uninsured because of job losses during the pandemic. These estimated increases in the number of uninsured adults are 39% higher than any other annual increase. The highest previous increase took place at the height of the Great Recession from 2008-2009, when 3.9 million nonelderly adults became uninsured.
"These record-breaking increases in the number of uninsured have taken place during the country's worst public-health crisis in more than a century and the sharpest and deepest economic downturn since World War II," said Stan Dorn, director of the National Center for Coverage Innovation and a senior fellow at Families USA.
Dorn's group wants health insurance included in the next coronavirus relief bill.
"Federal lawmakers have not yet enacted any COVID-19 legislation that addresses recent, historic health insurance losses. Now is the time to fill that gap by including protections for comprehensive health insurance in the next COVID-19 bill," the organization's report states.
The lack of health insurance increases the risks that patients and communities face from COVID-19 while having coverage protects people from serious illness unrelated to COVID-19, protects against financial hardship caused by unforeseen medical costs and keeps health care workers on the job.
Texas remains one of 13 states that has yet to expand Medicaid to adults without children at home and those with slightly higher incomes who do not qualify right now. The Republican-led legislative leadership again rejected the idea in 2019. Another attempt is expected when the legislature convenes in 2021.
Voters in deep-red Oklahoma bypassed their legislature and accomplished Medicaid expansion with a ballot initiative last month. Missouri voters will try the same approach next month.