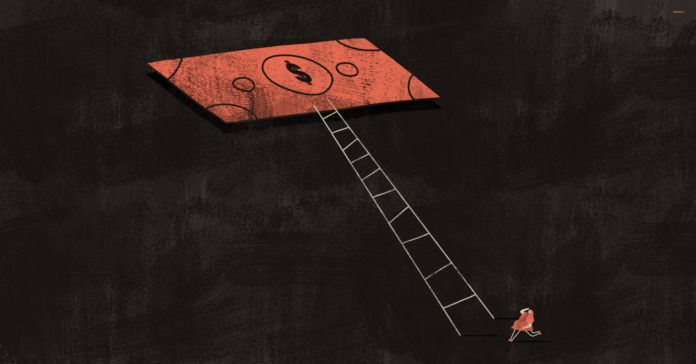 The coronavirus pandemic is driving a recession in Texas and across the United States right now, but unemployment data about who is being hit hardest reveals a grim reality: women — white Black, indigenous and other women of color are suffering the most. 
This year, female unemployment reached double digits for the first time since 1948, according to the Bureau of Labor Statistics. The last time white women made up such a small part of the employed population was in the late 1970s. For women of color, the recession has an even tighter grip, because they're most likely to be the sole supporters of their families as well as in low-income jobs.
The unemployment rate in the United States for Latinas was 15.3 percent in June. For Black women, it was 14 percent. Comparatively for white men, it was only 9 percent.
Why is it happening?
As the effects from this year's recession continue to disproportionately affect women of all races and backgrounds, advocates point to this being an issue long before the current recession hit.
"What it really boils down to is that women in general are considered the safety net or backup plan for America," said Maggie Segrich, cofounder and chief financial officer at Sesh Coworking, a coworking space and female employee advocate based in Houston. "Schools and households especially, historically rely on women in the role of caretaker. So when something dramatic or big happens in society, especially like a pandemic or recession, it becomes commonly assumed that women are going to figure out how to make it all work."
Segrich says women are used to adapting and being flexible.
"If they're working with an employer who doesn't acknowledge that, then they have to choose," she said. "They may feel pigeonholed, and on top of that, they make less than men do. So as she's making less money and the kids need taking care of, then her career starts to seem more disposable. It's a lot on their shoulders."
Earlier this spring, a third of the female workforce across the U.S. became essential workers — housekeepers, grocery clerks, social workers, and many other roles that women commonly work in. But then they were faced with having to choose: if they chose their job to keep their house and family intact, they might sacrifice their health. But if they sacrificed their health, who would care for their families? 
Previous decades of "occupational segregation" further complicated the issue. A rollercoaster of history and much progress over the last three decades shows how the workforce has mostly kept women, and especially BIPOC women, out of managerial positions and in roles that offered little by way of sick leave protection or even higher pay, despite great strides in workforce gender equality. 
But still, for some women, a financial fallback plan or work flexibility in the face of a shutdown and a pandemic, going on six months, just didn't exist.
What Can be Done?
With the hope that this becomes more of a permanent reality as what "going to work" looks like continues to shift, Segrich says the best way to respond to a female recession is to offer flexibility and trust for women. Segrich, who cofounded Sesh Coworking with Chief Creative Officer Meredith Wheeler, talked about their vision for the coworking space as an organization that would provide not just a flexible workspace space, but also advocacy and support around issues like these. Segrich and Wheeler are also both working moms.
The way in-person work looks is constantly adapting right now, so building flexibility and trust into the workplace may look like being able to come in outside of normal working hours to find a quiet space to work. For others, it may be a professional (and uninterrupted) Zoom background as they interview for new roles in a coworking space designed for women, by women.
Wheeler also encouraged others to "put their money where their mouth is" with purchases of locally made goods from shops run by Texan, LGBTQIA, and POC women as they grapple with a loss of revenue from canceled markets and festivals. Sesh has introduced an online retail shop comprised of local goods made by women.
"A lot of the women we work with need flexibility right now," Segrich said. "One woman who is part of our space is a photographer and a mom, and we asked her, what time of day do you work? She said, 'I have to work in the evening after my husband comes home, so he can watch the kid.' We think that's an awesome example of how employers and bigger companies can work with their employees on these issues. Women deserve flexibility."
Segrich said women tend to find a way to get the work done, but having a boss who understands why you can't take a conference call during naptime really helps. Trust is key, too.
Wheeler added that talking about the issues — why there is a gender divide in the workforce, why there is a pay gap in the workforce, how events like a pandemic compounds and complicates those issues even more — is a vital conversation to seeing change happen.
"If it's not acknowledged in a nonjudgemental way, it just gets swept under the rug," Wheeler said. "This is how society has been set up, historically. And for women who are trying to maintain a balance between working, being an employee, or owning a business and also caring for a family, their aging parents — the need to have this conversation is undeniable during a crisis like in 2020."