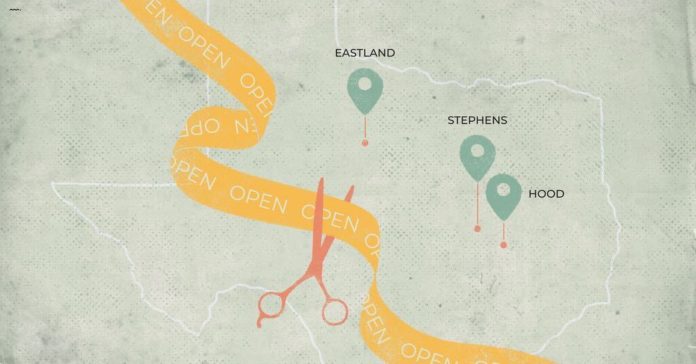 Commissioners in Hood, Eastland and Stephens counties have voted to declare their counties 100% essential and sanctuaries for all businesses. While it sounds like they are taking tough stands against Gov. Greg Abbott and his COVID-19 restrictions, they are really more symbolic gestures of support and gentle nudges to Abbott to finish reopening the state.
Businesses are encouraged to open, but the commissioners also acknowledge that Abbott's orders remain in effect and there could be penalties for defying those orders.
According to the Abilene Reporter News, the language in Eastland County's resolution states that the county seeks to foster "trust, not fear, between county officials and businesses and citizens," also stating the "the county will not of its own accord abridge such freedoms and rights."
"The resolution also acknowledges that state and county authorities "directly license, permit and regulate certain businesses within the county," and that "nothing in this resolution is intended to abridge such authorities from overseeing applicable license regulations and restraints," the newspaper reported.
The Hood County resolution was brought forward by Commissioner Dave Eagle, who agreed to soften the language after his colleagues expressed concerns it was going too far.
"It had strong language because it declared that the governor's orders are unconstitutional, which to this day I still believe, and time is going to prove me out. But I took all of that out," Eagle was quoted as saying in The Texan.
"It's very soft. It's just basically saying we stand up for our businesses here; we stand up for our citizens here."
As of Friday, counties with fewer than 10 COVID-19 cases are allowed to reopen at 100%. Hood County has already announced that it qualifies. 
Also Friday, restaurants were allowed to increase occupancy to 75%.
Abbott previously announced that all businesses in the state could go to 50% occupancy. This included bars and gyms that had been limited to 25% occupancy.
The governor has not set a date for his next announcement.
In the meantime, COVID-19 cases and hospitalizations have been surging across Texas. Every major metropolitan area reported single-day records for new cases and hospitalizations, prompting local governmental leaders to call for continued diligence from residents when it comes to social distancing and staying home as much as possible.