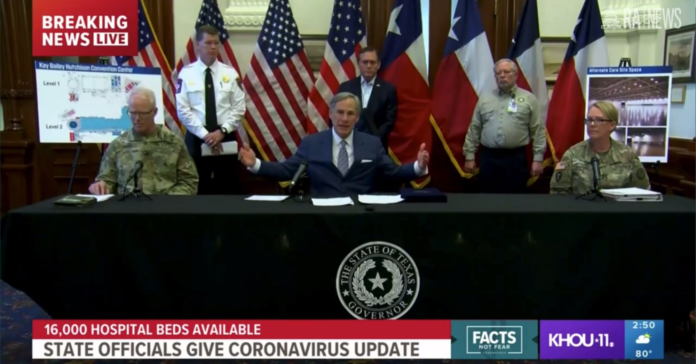 Texas Governor Greg Abbott today announced the opening of Texas' first pop-up hospital, further restricted travel into Texas from COVID-19 hotspots and ordered a halt to any plans to release pre-trial detainees from Texas jails .   
The governor's previous travel restrictions required 14 days of self-quarantine for anyone flying to Texas from New York, New Jersey, Connecticut and New Orleans. He is now requiring a 14-day self-quarantine for anyone traveling to Texas from anywhere in Louisiana, Miami, Atlanta, Detroit, Chicago or the states of Washington and California. The order does not apply to travel related to commercial activity, military service, emergency response, health response or critical infrastructure functions.
Abbott also announced he has signed an executive order prohibiting the release of "dangerous felons" from any Texas jails or prisons.
The new order comes as Harris County works on a plan for the compassionate release of non-violent, medically vulnerable offenders. Texas prisons began confirming COVID-19 cases last week. The Harris County lockup reported its first case today.
In response to the governor's announcement, Harris County Sheriff Ed Gonzalez tweeted the following:
mind. Not acting now to safely and responsibly reduce the jail population will result in a serious outbreak…the beginning signs are already here with today's first confirmed #COVID19 case in the jail. #HouNews

— Ed Gonzalez (@SheriffEd_HCSO) March 29, 2020
The state's first pop-up hospital for coronavirus patients is the Kay Bailey Hutchison Convention Center in Dallas. The U.S. Army Corps of Engineers and the Texas National Guard are working together to identify other locations in Houston, San Antonio, Austin, El Paso and the Rio Grande Valley. "Existing hospitals will continue to be the primary location to treat and care for those in need," Abbott said. "But we must prepare for the worst-case challenges as they arise."
As of Sunday, there were 2,552 confirmed coronavirus cases in Texas. 34 Texans have died from the virus.