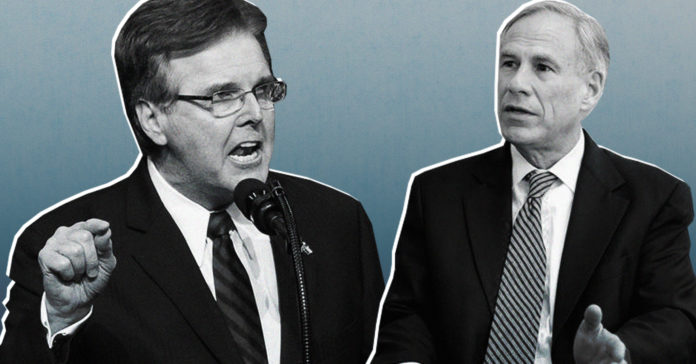 COVID-19 is once again shining a bright spotlight on the politics of Texas. Never was this more apparent than last Monday when Lt. Governor Dan Patrick went on national TV to say he, as a member of the age group most at risk for coronavirus, was willing to take one for the team and risk dying if it meant getting the economy going again. Patrick's position was in stark contrast to Gov. Greg Abbott's more measured, science-based approach to the pandemic.
Those who have watched Texas politics for some time are not surprised, noting this is not the first time Abbott and Patrick have appeared to be at odds with one another.
University of Houston-Downtown Adjunct Political Science Professor Jay Aiyer said Abbott may think the same as Patrick, but prefers to let Patrick say it instead of saying it himself. 
"Patrick acting a fool makes Abbott look more reasonable," Aiyer said.
Scott Braddock, editor of the Quorum Report, blamed Patrick's TV performance on Abbott's lack of decisive leadership. On Twitter, Braddock wrote: "And if Gov @GregAbbott_TX isn't decisive, he'll be bullied into @DanPatrick's position on #coronavirus the same way it happened on bathrooms two years ago. Take that to the bank #TxLege."
And if Gov @GregAbbott_TX isn't decisive, he'll be bullied into @DanPatrick's position on #coronavirus the same way it happened on bathrooms two years ago. Take that to the bank #TxLege https://t.co/xrYI5BTvSf

— Scott Braddock (@scottbraddock) March 24, 2020
The bathroom bill Braddock referred to was Patrick's failed 2017 attempt to preempt local nondiscrimination ordinances that allow transgender Texans to use the bathroom corresponding with their gender identity. Abbott caved to pressure and added the issue to a special called session after Patrick failed to win enough votes during the regular session. It did not get approved in the special session.
Abbott and Patrick were also at odds over the calling of special sessions following the last two legislative sessions. In 2017, Patrick wanted to reconvene after the gavel fell in order to discuss overhauling the state's controversial Robin Hood school funding plan. Then in 2019, Patrick pushed for a special session to work on a unity plan to prepare Republicans for the 2020 election cycle. Abbott refused both times.
While Patrick carries the torch for conservatives who think the governor has gone too far and should pull back and sacrifice parents and grandparents for the sake of preserving financial portfolios, the democratic leadership in Austin believe Abbott hasn't done enough to keep Texas safe from coronavirus. They want a statewide stay-at-home order, faster testing and more equipment for health care workers.
Although he has left the door open to more restrictions if necessary, Abbott has, so far, refused to go beyond his initial order closing schools, gyms, bars and restaurants (except for takeout). With his position clear, county judges and mayors in the state's major metropolitan areas have jumped in to impose local stay-at-home policies. Some have criticized this approach as creating a patchwork of restrictions that are not as effective as a statewide order. It has, however, resulted in 70 percent of Texas now being covered and it happened without Abbott having to make the decision.
"It is clear he has chosen to take a secondary role in this," Aiyer said of Abbott's approach. "Local governments are left to do the heavy lifting."
It remains to be seen whether this middle-of-the-road approach will hurt Abbott politically or hinder Texas' ability to properly respond to the pandemic.
Longer term, though, Aiyer wonders how the legislature will deal with the fallout from COVID-19 when it convenes in January for the 2021 session. Sales taxes will be down considerably as will oil and gas revenues. There will be pressure to tap into the state's rainy day fund and heated debate about how to fund public education for K-12 and the state's universities.
Under Texas' governmental structure where the lieutenant governor holds the power in the legislature, Abbott will once again play a secondary role in those decisions. How much power Patrick has come 2021 will depend on the outcome of this year's elections and whether the Texas House remains under GOP control.