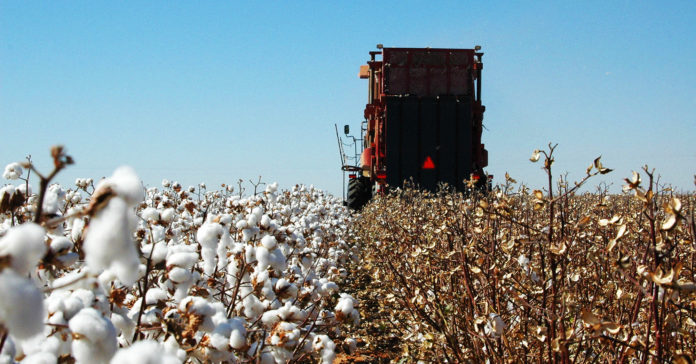 A promising 2020 for the Texas cotton industry has quickly gone sideways due to the COVID-19 pandemic.

In the short term, the going will be tough for cotton producers, said Texas cotton farmer Steve Newsom, who farms 4,000 acres in the panhandle. Most of it is cotton. He said credit is tightening and farmers need to be financed and their crops put into the ground.

"We've got one hell of a tough 90 days ahead of these producers," Newsom told Reform Austin in an interview.

Texas is America's leading cotton producer, generating on average $2.2 billion in crop value annually, according to Farm Progress.

COVID-19 has adversely impacted the Texas cotton industry, Texas Agriculture Commissioner Sid Miller said in a statement to Reform Austin.
"Both the price of cotton and market have taken a big hit. For the most part, everything is shut down, therefore nothing is moving like it normally does," he said. "I think we'll see less acres for this year's season due to current market, and that's not something I like to see our Texas farmers struggle with."

The recent approval of the stimulus package by Congress and the president could offer some relief to the industry.

In a press release issued last week, the National Cotton Council of America (NCC) reported that its Chairman, Kent Fountain, said the bill needed to restore funding authority to the Commodity Credit Corporation and direct funding to producers, allowing the United States Department of Agriculture to institute measures that will mitigate the economic fallout and disruption caused by the pandemic.

Intercontinental Exchange futures cotton prices have plummeted, trading on a combination of fear, uncertainty, and a vague notion that demand must be reduced since most consumers are sheltering and/or furloughed, said John Robinson, Texas A&M professor, cotton marketing specialist and extension economist, in an email to Reform Austin.

"We've really got a mixed bag this year. Really great weather… just absolutely incredible … as low as cotton prices — as a result of all this — as we've seen since '08," Newsom said.

He said the pandemic is a double-edged sword: Diesel prices haven't been this low in 12 years, and while that is good for him, it doesn't benefit the state's economy.
Miller said his department has been working with the governor during the crisis to facilitate some relief for farmers and ranchers, but Gov. Greg Abbott hasn't yet let him know whether the state will provide economic help.
"Making sure we take care of these folks is a top priority for us. Texans are starting to realize now more than ever how important the ag industry is," he said.
The development of transportation challenges has also contributed to cotton woes. Robinson said the United States ships cotton to Asian markets and those vessels return with iPhones, Nike shoes, etc. But that process has been interrupted.
"Right now my understanding is that the shipping industry is all gummed up," he said. "They are parking ships at ports for quarantine periods (equals delays). Also implies an imbalance and potential shortage of shipping containers. From a cotton standpoint, this is making it difficult to ship the exports that we've already sold (on the books, anyway)."
Commodity prices have created cash flow issues for Texas cotton producers. Newsom said in the short term it's going to be painful for the Texas cotton farmer during this downward trend in cotton prices, but in the long term, some substantial positive effects could result, such as a reduction in input costs for farmers.

The NCC, along with other agricultural organizations, submitted letters to President Donald Trump and Congressional leaders conveying how crucial it was for the stimulus-response to match the scale of efforts employed to contain COVID-19, the NCC press release stated.

"The letters emphasized that individuals and family-owned companies operate on their cash flow, and that cash flow has been severely disrupted – their costs are up, and their revenue flows are down, if not entirely shut off," the press release continued.

If or when the viral crisis is eventually resolved, then the cotton futures market would regain traction, Robinson said.
"But it will take longer for the supply chain to get back to normal, given all its lagged effects. I think the answer is that returning to normal is months away, assuming we get a handle on the near-term acute problem."