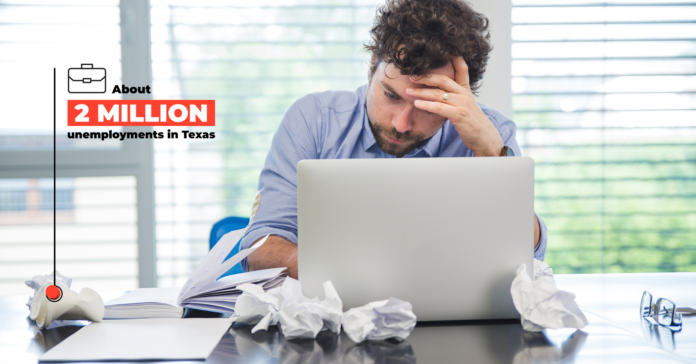 The number of Texans on unemployment is now hovering around the 2 million mark. Another 134,381 first-time claims were filed in the Lone Star State last week. While that continues the downward trend that began a couple of weeks ago, it is still far above the average weekly filings before the pandemic. It is also believed to be an underrepresentation of what is really happening because there are still widespread reports of people who have been unable to access the Texas Workforce Commission's overwhelmed system. 
Texas Workforce Commission spokesperson Cisco Gamez said TWC has processed close to four years' worth of claims in just two months. Those claims have resulted in payouts of unemployment benefits totaling $6.4 billion.
Nationally, there has also been a slowing of first-time claims. There were 2.4 million Americans filing first-time claims last week, for a total of about 38 million since the pandemic began. That brings the nation's unemployment rate to around 17%. In comparison, unemployment hit just under 10% in 2009 at the height of the Great Recession and 24.9% in 1933 during the Great Depression.
On a bright note, Texas is among five states experiencing the largest decreases, which could be a reflection of reopening steps that have been implemented in the last couple of weeks. Other states experiencing declines are California, Oklahoma, North Carolina and Missouri.
The Texas Workforce Commission this week voted to begin phasing out the child care subsidies that had been offered to essential workers. The move follows Gov. Greg Abbott's decision to allow child care providers across the state to reopen. Previously, they had remained open only to children of essential workers and subsidies were put in place to assist both essential workers and child care centers during the period of reduced enrollment.
Essential workers who are already on the subsidized plan will continue to receive child care for the three month period they were initially approved for under this program. No new applications are being accepted.
Lack of access to child care is considered a good reason for refusing to return to work. Gamez said that reason will be considered on a case-by-case basis.
"With child care facilities now allowed to reopen, we would continue to take claimants at their word, absent facts to the contrary, and would review the work refusal around lack of child care to determine benefit eligibility" said Gamez in briefing on social media Wednesday.
Texas unemployment recipients have also been put on notice to prepare to have to begin job searches again. It hasn't happened yet, but Gamez has previously indicated it is coming. He has also said there will be advance notice.
What you need to know if you are out of work
If you are newly unemployed, it is important that you apply for benefits as soon as possible because eligibility begins the week you apply. You will not be paid benefits for weeks before you apply.
The $2 trillion federal stimulus bill includes an additional $600 a week in unemployment benefits for four months and aid for freelancers and others who do not usually qualify for unemployment assistance. In addition, there is financial help available for the self-employed.
If your last job was for a temporary agency or staff leasing company, you may still qualify, but there are additional requirements.
How to apply
Apply for benefits in one of two ways:
Apply online at Unemployment Benefit Services by selecting "Apply for Benefits." Information about applying online is available in the Applying for Unemployment Benefits Tutorial.
Call a Tele-Center at 800-939-6631 and speak to a customer service representative.
Information you will need to apply
Your last employer's business name, address and phone number.
The first and last dates (month, day and year) you worked for your last employer. If you worked for your last employer on more than one occasion, provide the most recent employment dates.
Number of hours worked and pay rate if you worked the week you apply for benefits (Sunday through Saturday).
Information about the normal wage for the job you are seeking.