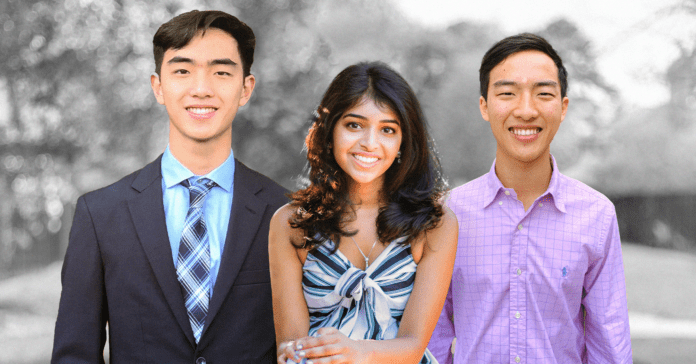 It's easy to feel alone during this time of isolation and social distancing. Loneliness during the pandemic inspired UT-Austin students to create a new social network.
Co-founders Allen Zhou, Aditi Merchant and Anthony Zhou founded Big & Mini, a nonprofit that connects youth and seniors through video calls to combat social isolation and bridge the generation gap.
The Bigs are seniors who share their unique stories and experiences that youth can benefit from, and the Minis are on the verge of their adult lives and are curious.
In an age of social networking and video calls, the founders discovered that it wasn't technology that was lacking, the website states, "nearly all seniors we talked to had some form of mobile device," it was the platform.
And now the Texas Health and Human Services Commission has extended the ban on nonessential visitors to nursing homes and assisted living facilities until Sept. 29. That has kept seniors in those facilities from seeing family and friends in person. Facilities can get tablets, webcams and other gear to help residents keep in touch with people, but feeling isolated and lonely can be a problem, RA News reported recently. 
It's Personal
Allen Zhou, an electrical and computer engineering major at the University of Texas at Austin, said in an email Tuesday that when they started Big & Mini, they had no connections and very little background in this digital realm. But one big lesson became clear as Big & Mini grew quickly.
"I've learned that kindness is at the heart of any successful entrepreneur. It is that one thing that is free and returns so much more than it costs. It truly makes a difference," he wrote.
But do the users really connect? Zhou said the callers really do form deep friendships.
"There's always a little bit of ambiguity to begin with, but after seeing your match's face and meeting them, people find that no matter their age or background, we really have a lot in common. We've had matches continue chatting weekly since our founding in early April. It's pretty amazing," he wrote.
Zhou said Big & Mini users are kept safe by Jitsi, a free, open-source multiplatform communication platform. "As security is of utmost importance to us, we tried to find the most secure software available that meets our needs. Because Jitsi peer-to-peer is encrypted using DTLS-SRTP all the way from the sender to the receiver, even if they traverse network components like TURN servers, your information, video, and call will remain protected."
Zhou added that every profile is reviewed to make sure everyone is safe.
Connecting
What's next? Zhou said his team has an app in the works that will be released in the coming weeks.
Big & Mini is also working with a senior living facility in Austin to play virtual games such as Scattergories and Blank Slate.
"We've found that both our users and the residents really enjoy the experience," wrote Zhou.
NBC's "Today" show featured the new social network's founders, and two Big & Mini users — one in New Jersey and one in Texas. The users talked about how much their new virtual friendship means.