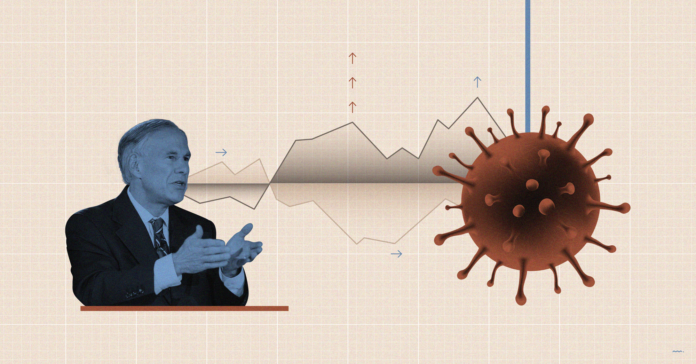 Texas keeps shattering records. Wednesday brought a new all-time high for new COVID-19 cases, 8,076, more than 2,000 cases higher than the day before. It was also a record-breaking day for hospitalizations. The situation around the state has worsened with each day for weeks now. 
As of Wednesday, the Texas Medical Center exceeded its base ICU capacity and was beginning to convert regular floors into ICU units to meet the growing demand in the Houston area. 
So, what went wrong, and who's to blame?
The critics seem united in pointing the finger of blame at Austin, specifically Gov. Greg Abbott.
Baylor College of Medicine Infectious Disease expert Dr. Peter Hotez said the state opened a month too early and without a public control system in place.
Dr. Anthony Fauci included Texas in his list of states that skipped some reopening guidelines.
Texas Democrats — from the mayors and county judges who lead the state's major metropolitan areas to U.S. representatives and state lawmakers — have lambasted Abbott for opening too soon and refusing to impose a statewide mask order.
"The record-breaking number of cases is Governor Abbott's responsibility. He is a governor who refuses to implement common sense policies like mandating a mask," said Rep. Toni Rose (D-Dallas) in a Zoom news conference sponsored by the Texas Democratic Party.
"If Governor Abbott cared about the people of Texas, he would cancel the Republican in-person convention. The Democrats, who always lead, had a virtual convention that was very successful," Rose said Wednesday.
Even people at the state's two largest newspapers have blamed Abbott.
"Anti-government libertarians and anti-science conservatives made the most political noise in April and late May," wrote Houston Chronicle opinion writer Chris Tomlinson Tuesday. "They convinced our cowardly leaders in Austin to ignore the experts, overrule local authorities and reopen Texas businesses before the public health system was ready."
The Dallas Morning News' editorial board characterized Abbott as having a leadership problem, writing, "to this point, he has mostly emphasized what local governments do instead of what they could do. That's led to too many Texans concluding that they could ignore masking and social distancing advice without consequences. But those consequences are now evident in the growing number of cases in urban areas of the state."
Rice University Political Science Professor Mark Jones said Abbott may have taken a slightly more risky approach, but he doesn't see that he has made any political missteps. He says if you have liberal Democrats and conservative Republicans criticizing you, you are probably doing something right.
"The job the governor has to do is constantly steer a middle course between the extremes of opening up completely and the extremes of closing down completely," said Jones in an interview with Reform Austin.
Jones sees what Abbott has done as being the model we will be living with until there's a vaccine. Restrictions will be loosened when caseloads improve and ratcheted back when things deteriorate. He concedes that is very painful for businesses, but notes it would be much more painful if the governor had been risk averse and left everything closed longer.
As for any impact on the elections in November, Jones says it will depend on how the economy is doing then.
"The economy will hurt Republicans. Abbott's successful management of the COVID-19 pandemic, if it continues, should help the party. That all said, if you are a Democrat, and you have to choose between a robust economy and a governor who has done a good job of managing the crisis, I think you would take the robust economy every time," Jones said.
Texas did skip over at least one key step in its reopening. It did not wait until there had been 14 days of decline in the new caseload. Abbott preferred instead to focus on hospitalizations and the positivity rate, the number of tests that come back positive. Both of those were low when he made his move in May, but they have gone nowhere but up since then.
On Wednesday, the state reported the positivity rate stood at 13.58%, compared to 4.27% when it was at its lowest point around Memorial Day.
For his part, Abbott has conceded that he moved too quickly to open bars. Last week, he ordered them closed again and cut restaurant operations back to 50%. He also halted elective surgeries in eight Texas counties experiencing surges in COVID-19 cases.
He continues to stress the importance of wearing a mask and staying home, but he has shown no signs he will reverse course and make it mandatory.