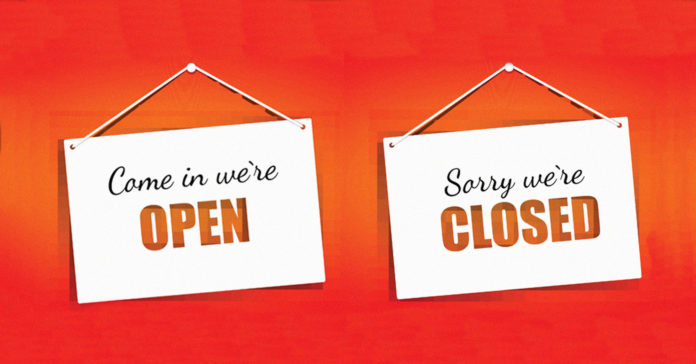 Gov. Greg Abbott has set Friday as the day restaurants, retail stores, malls, movie theaters, museums and libraries can reopen at 25% capacity. The news has been met with mixed reactions. Some are saying hold on a minute. Others have jumped the gun and defied state and local leaders by opening ahead of Abbott's May 1 date. Still others have found Abbott's order very confusing and lacking in the guidance they need to know what they can and cannot do.
The list of those not opening on Friday may be longer than the list of those who are swinging the doors wide for returning customers.
Defiance
In blatant defiance of orders from Abbott and Harris County Judge Lina Hidalgo requiring restaurants to remain closed until April 30, the owner of Federal Grill in the tiny Houston suburb of Hedwig Village went ahead and opened last Friday.
"I disagree with Hidalgo's order. The government does not have the right to pick the winners and losers of this situation," said owner Matt Brice. "Until now, we've followed it 100 percent to make sure the city is safe. But the numbers are decreasing, and it is time to get people back to work."
Brice had no trouble attracting customers and law enforcement turned a blind eye to Brice's flagrant disregard for the protective orders everyone else is following, choosing not to force him to shut down again.
What are Other Restaurant Owners Doing?
Some restaurants will open Friday, and some will not.
Houston's CultureMap published an exhaustive list of restaurants that will reopen for dine-in service starting Friday, but a sister publication in Austin chose not to do the same because they said the list would have consisted solely of mega-chains and restaurants based in other cities.
There had been some concern that Abbott's order catered to the big chain restaurants that have large capacities, but the CultureMap list appears to indicate that many big and small restaurants have been able to figure out how to comply with the 25% capacity limitation, social distancing and increased health and safety requirements that come with the new normal of living with COVID-19.
Still not ready is restaurateur Brooks Anderson in Dallas. He doesn't think the financials work out for restaurants to operate at a quarter of their regular capacity.
"In the best of times at full capacity, restaurants have a hard time paying their bills," Anderson said. "What I can tell you is, we're not reopening at 25% capacity. That makes no sense at all. Am I supposed to tell my servers and bartenders to come back to work where they're not really going to make any money in tips? It's a tough situation."
Movie Theaters
Cinemark Theaters expects to be closed until July. AMC Theaters and Regal Entertainment Group will not reopen Friday but have not specified when they will pull the trigger. The same goes for Studio Movie Grill and Alamo Draft House.
"Opening safely is a very complex project that involves countless new procedures and equipment, all of which require extensive training," an Alamo Draft House spokesperson told Variety. "This is something we cannot and will not do casually or quickly. We will not be opening this weekend. But know this, when we do open, we will be providing the safest possible experience for both our staff and our guests, and we can't wait to see you all again!"
Safety is of concern, but availability of movies to show may be the bigger reason it will be some time before you can catch a flick on the big screen. Hollywood put the kibosh on new releases back at the start of the pandemic, so there are no films available to show.
Stores and Malls
It's a mixed bag here.
Simon Properties, which owns the Houston Galleria, Katy Mills and Houston Premium Outlets, will reopen Friday.
The Dallas Galleria is set to reopen Monday and will require all employees and customers to wear face masks.
Other mall owners are waiting.
There are numerous reasons big retailers can't simply go from closed to open again. They have to figure out how to enforce social distancing and limit capacity to the 25% mandated by Abbott. They also have to reestablish distribution conduits and call back furloughed workers.
Even smaller retail shops that would seem to be more nimble aren't all jumping to get back to normal just yet.
Ginger Diaz, who owns Feliz Modern, told the San Antonio Express-News she's exercising caution when it comes to reopening. She's been discussing the possibility with employees and plans to meet with her landlord to re-evaluate in another week.
"I'm concerned that if we do too much too fast, we're going to be closed again," she said.
Museums and Libraries?
There may be some exceptions out there that we could not find, but for now, it seems most museums and public libraries are choosing to remain closed.
Agustín Arteaga, director of the Dallas Museum of Art, said Monday that his organization is "working through various re-opening scenarios, taking into account new health and safety measures that would need to be implemented, as well as guidance from federal, state, and local officials. We are aware of the governor's inclusion of museums in the state's phase one plan to re-open and will confirm a re-opening timeline as soon as we determine that we can do so with the proper measures in place."
In Houston, the Houston Museum of Natural Science will be the first to take advantage of Abbott's new order. It's reopening date is May 15.
"The museum will continue to expand digital engagement opportunities for those who may not yet feel comfortable returning," HMNS president and CEO Joel A. Bartsch said in a statement. "At the same time, our staff will continue working nonstop to develop additional protocols and provide additional support and supplies as needed for those who do."
Per Abbott's order, the museum will operate at 25 percent capacity, and hands-on exhibits will remain closed. In addition, guests will be required to wear face masks, and employees' temperatures will be taken.
The Holocaust Museum in Houston will reopen May 26.
Meanwhile, Houston's largest museum, the Museum of Fine Arts, Houston advises to keep checking their website for an announcement about reopening.
Montgomery County Making its Own Rules
Montgomery County Judge Mark Keough views Abbott's order as vague and posted on Facebook that unless there is a clarification by Friday, he will allow all gyms, hair salons, nail salons and many more to reopen Friday.
Abbott responded in agreement that clarification is probably warranted.
Abbott's order specifically excludes bars, gyms, public swimming pools, barbers, hair salons and nail salons. He has said those businesses must remain closed for now.
The bottom line is that not everyone who can open their business Friday will open. And some who are not supposed to open will go ahead and do what they want.
The best advice is to call ahead and make your personal decision based on the risk to your health and the health of others.