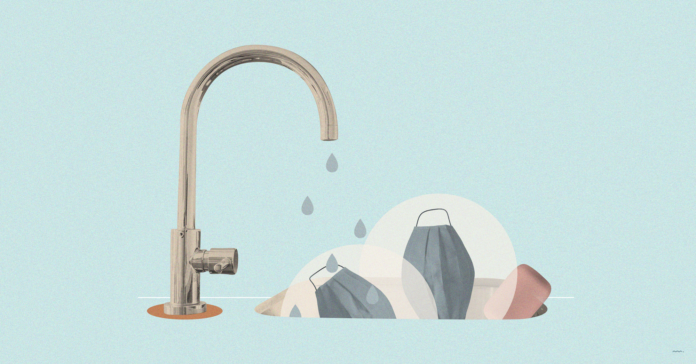 By now, wearing masks or other face coverings to prevent the spread of the coronavirus is a normal part of life. But what are the best ways to clean them without spreading the germs they catch? Here's what several experts recommend.
First, it is a good idea to have at least two face masks in case one is soiled.
While disposable masks cannot be laundered and should be disposed of after use, masks made of fabric should be washed regularly.
The front of your mask acts as a shield, and it could be dirtier than it appears. So try not to touch it.
Washing in a Laundry Machine
You can use your regular laundry machine and regular laundry detergent. Set the machine at the warmest setting appropriate for the fabric, the Centers for Disease Control and Prevention recommends. 
When washing your mask in the washing machine, Dr. Lisa Maragakis, associate professor of medicine and epidemiology at Johns Hopkins University School of Medicine, suggests using an unscented laundry detergent if you are sensitive to perfumes. Also keep this in mind for those with sensitive skin. 
Washing by Hand
When hand washing your mask, use hot, soapy water, and then scrub for 20-30 seconds.
A key thing, Dr. Fred Campbell with UT Health San Antonio, said is soap. 
"Soap actually surrounds the COVID-19 viruses and destroys them. Dissolves them," he said.
Drying
When drying, use the highest setting on the machine, the CDC recommends. Or place the mask or cloth face-covering on a flat surface in direct sunlight.
Handling and Storing
"Remember that once you put a mask on, it is a barrier between you and the world," said Kanaka Sathasivan, MPH, director of communications at the Texas Nurses Association, on Wednesday.
"That means that your breath is being caught by the mask, and the mask is also catching anything in the air. To make it easier to remember, choose if you are going to put your mask on at home or in the car, and do not touch the mask until you return to that location."
"When removing a mask, treat the entire front panel as contaminated, and only handle the mask by the straps. You can decontaminate a mask by washing it or by placing it in a bag for three days. Do not let the mask touch anything else, such as your purse. Wash or sanitize hands after removing the mask. Do not reuse a mask you have already worn without decontaminating it," Sathasivan adds.
You want to be careful about how you handle your mask on a daily basis. When taking off your mask grab it from the ear loops or straps as the front of your mask is most soiled, so avoid touching it.
Dr. Campbell also said it is important to wash your hands after touching your mask when you are done using it. If you touch the front of your mask clean your hands again.  
When not using your mask, it should be stored in a clean place where being handled by others is less likely.
And avoid sharing your mask with others.Masks are only one part of what should be a routine effort to stay safe. The CDC recommends other actions such as thoroughly washing your hands often, avoiding close contact with other people, covering your sneezes and coughs, cleaning frequently touched surfaces daily and monitoring your health.