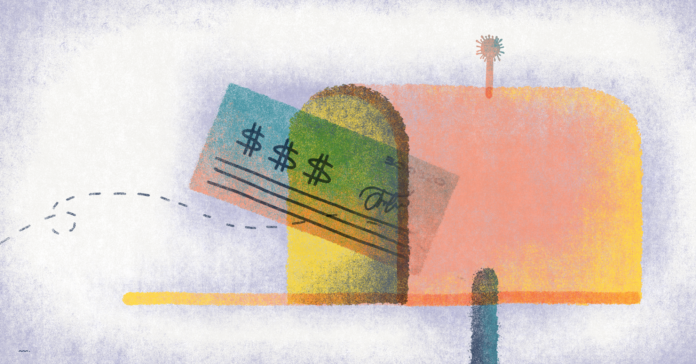 Treasury Secretary Steven Mnuchin said Sunday that checks from the $2 trillion federal stimulus bill Congress passed last week to help the country weather the COVID-19 pandemic will be in the mail or direct deposited in the next three weeks.
The bill, the largest aid measure in U.S. history, includes $250 million in direct aid for workers and businesses suffering financial hardships due to the coronavirus. Individuals making $75,000 or less will receive a one-time check totaling $1,200, plus $500 for every qualifying child. The benefit is reduced on a sliding scale for individuals earning between $75,000 and $99,000 annually.
Married couples filing joint tax returns and earning $150,000 or less will receive a one-time payment of $2,400.
If the Internal Revenue Service already has your bank account information, your check will be provided via direct deposit. Everyone else will receive their checks in the mail.
"We have everybody within Treasury and the administration working around the clock to get this money out quickly since this doesn't do people any good if it takes a long time," Mnuchin said. "If for whatever reason, this takes longer than we think, we will go back to Congress and get more support for the American economy. But I hope that's not needed."
The stimulus package extends unemployment benefits by four months and increases the maximum benefit amount by $600 per week.
Businesses with fewer than 500 employees are eligible for loans of up to $10 million. The loans will be forgiven if certain conditions are met, such as not laying off employees. More information is available from the Small Business Administration.
The measure also includes more than $500 billion in funding for loans for big businesses, including airlines and oil and gas companies.