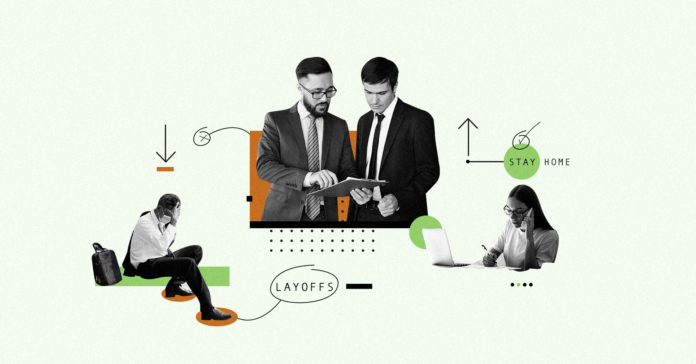 As the Texas economy began re-opening from the pandemic shutdowns, some employers were reluctant to bring employees working at home back to offices. Now with the virus surging, some who did recall workers are backtracking and telling workers again to stay home.
In hardest hit Houston/Harris County, where there are about 30,000 confirmed cases, the top executive of the Greater Houston Partnership, the area's largest economic development organization, encouraged employers to send workers back home if possible.
"The marked deterioration of the Houston COVID-19 health data is reaching a critical point, with confirmed positive cases, hospitalizations and ICU usage surging along with most COVID-19 metrics," said Bob Harvey, president and CEO of the organization. "The time is now to take action to curb this alarming trajectory."
"We encourage employers to strongly consider returning to a work-from-home model where it is practical," he stated.
Businesses across the state sent workers home in March as schools closed and shelter-in-place ordinances were enacted. But as part of his reopening plan, Gov. Greg Abbott allowed child care centers to re-open in early June and announced that public schools would re-open in the fall, giving working parents more flexibility to return to their workplaces.
Some of the largest employers in the state are postponing return-to-work plans, including major Houston area energy companies such as oil field services provider Halliburton and power provider NRG Energy.
In the Dallas-Fort Worth area, major employers holding off bringing back workers include AT&T, Fidelity, Toyota and the General Motors manufacturing plant in Arlington.
What Workers Like
Several recent studies of office employees working at home during the COVID-19 pandemic found that most appreciate the experience. A study of 1,000 U.S. office workers found that 99% appreciate benefits such as saving money, avoiding long commutes and having more flexibility in their work schedules.
But respondents also indicated they miss the interaction and camaraderie with co-workers.
"Employees are looking to the office as a place to meaningfully connect with colleagues, yet desire more flexible work benefits," said Andrew Kupiec, CEO of Hana, the flexible work space subsidiary of commercial real estate giant CBRE Inc.
A study of Texas energy workers conducted as Texas began re-opening businesses found that 70 percent of 448 participants preferred to work at home. About 80 percent of the respondents were office workers who indicated that health risks and child care made them reluctant to return to their workplaces.
About 20 percent indicated they would take an unpaid furlough, and 5 percent said they would consider quitting rather than return to the office, according to the survey led by the University of Houston's energy initiative.
Researchers also found that employees with underlying health conditions were no more reluctant to return to worksites than those without health concerns, and older workers were more eager to return to workplaces than younger workers.
Who Can Do It
Prior to COVID-19, fewer than one-third of American workers were able to work from home, according to the most recent data from the U.S. Bureau of Labor Statistics. Only 29 percent of wage and salary workers could work at home in their primary jobs in 2017-18.
Asians were most likely to work at home — 32%, compared with 26% of whites and 18% of black workers. Hispanic workers were the least likely to have jobs that could be done at home at 13%.
The study also shows that at least 50% of American workers in the financial services, information technology and business and professional services sectors were able to work at home compared with workers in the leisure and hospitality industries at 8.4%.
An analysis of the labor data by the Dallas Federal Reserve found that Texas has a larger share than the U.S. of workers in jobs that don't allow them to work at home, putting them at greater risk of contracting the virus, losing their jobs due to shutdowns and struggling in poverty. About 42% of the Texas workforce is employed in the most at-risk categories, including leisure and hospitality, trade, transportation and utilities, mining and retail compared to 39 percent for the U.S. workforce.
"While multiple factors determine the number of at-risk jobs in various business activity sectors, the ability to work from home is a key indicator," said Anil Kumar, an economic policy advisor and senior economist in the research division of the Dallas Federal Reserve. "The coronavirus crisis could more adversely affect the Texas economy than the U.S. economy due to the state's relatively large share of at-risk jobs."
For workers who are able to work at home, the pandemic could reshape the office environment of the future.
"Much of the current discussion around remote work, rotating or flex schedules is still speculative as we don't yet have a full understanding of how long the changes to our workplaces will be impacted by COVID-19," said Matt Montague, senior vice president of JLL in Fort Worth, a real estate services firm. "What is clear, is that there is, and will be, an emphasis on workplace flexibility, health and well being.
"This is an area we have been actively monitoring and the one thing that has been constant is change," Montague said. "We are confident the office market will recover, but what comes from this will be different than our world pre-pandemic and is still unknown what that may look like."