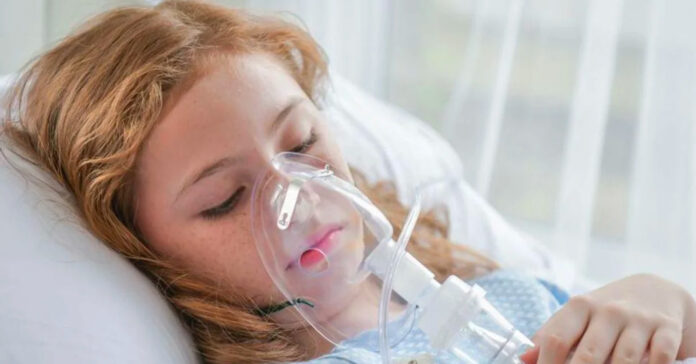 It seems like we still haven't seen the worst of COVID yet. While many of us hoped 2021 would bring fewer cases it's starting to feel like the opposite is true, coronavirus's latest variant, Delta, is quickly spreading across the nation, and many health professionals have started to report seeing more kids in need of hospitalization. 
According to county judge Clay Jenkins, there are "zero ICU beds left for children," in Dallas county, and unfortunately, that includes kids infected with COVID or anything else. 
"That means if your child's in a car wreck, if your child has a congenital heart defect or something and needs an ICU bed, or more likely if they have Covid and need an ICU bed, we don't have one. Your child will wait for another child to die," said Jenkins. "Your child will just not get on the ventilator, your child will be CareFlighted to Temple or Oklahoma City or wherever we can find them a bed, but they won't be getting one here unless one clears."
The grim statement is harsh, but unfortunately far from false. As reported by the Houston Chronicle, 40 Texas children are being hospitalized with COVID per day, the highest rate in the state in over a year.
President Biden has been trying to push state leaders into imposing more sensible measures, especially during back-to-school season, "I think that people should understand, seeing little kids — I mean, four, five, six years old — in hospitals, on ventilators, and some of them passing — not many, but some of them passing — it's almost, I mean, it's just — well, I should not characterize beyond that," the President said last week.
Gov. Abbott's ban on mask mandates is already taking a toll on people, and while some defended their "right" not to wear masks, many others are realizing that these senseless tantrums might be messing with the lives of young children who are not even eligible to get a vaccine just yet.
A number of Texas counties, businesses, and ISD's have decided to defy the governor's order and require mask mandates themselves, facing fines and punishments from the Governor and those who have sided with him.
After Judge Jenkins issued an emergency order mandating masks in certain public spaces in the county, Texas Attorney General Ken Paxton released the following statement, "This isn't the first time we have dealt with activist characters. It's déjà vu all over again," Paxton said, "Attention-grabbing judges and mayors have defied executive orders before, when the pandemic first started, and the courts ruled on our side — the law. I'm confident the outcomes to any suits will side with liberty and individual choice, not mandates and government overreach."
The fight to end COVID is far from over and if one thing is certain is that we need our state leaders to side with the people, and not with their own political interests.