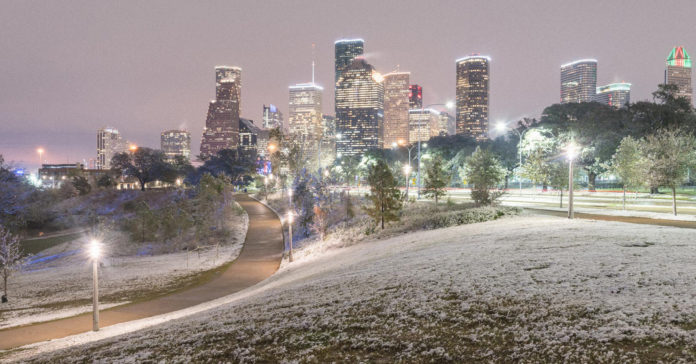 Extreme frigid temperatures in Texas are causing power failures across the state, not only is traveling on the roads hazardous but grocery stores are closing all together, including H-E-B Austin stores, which will be closed Monday. 
"Every grid operator and every electric company is fighting to restore power right now," ERCOT President and CEO Bill Magness said on Friday in a press release stating that The Electric Reliability Council of Texas has entered emergency conditions. 
Texas is experiencing historic weather conditions and blackouts are happening across the state with 75% of Texas power generation capacity being impacted.
Magness says ERCOT is experiencing "record-breaking electric demand due to the extreme cold temperatures." 
Millions across Texas have been affected by the power outages and questions remain over when power will be back on. ERCOT also says there is no limit to how long any one outage could last and it is up to providers to figure out where and the length that the rotations are.
Here are some safety tips from ERCOT on safely reducing electricity use at this time:
Turn down thermostats to 68-degrees.
Close shades and blinds to reduce the amount of heat lost through windows.
Turn off and unplug non-essential lights and appliances.
Avoid using large appliances (i.e., ovens, washing machines, etc.).
Businesses should minimize the use of electric lighting and electricity-consuming equipment as much as possible.
Large consumers of electricity should consider shutting down or reducing non-essential production processes.
Wearing warm clothing and eating food for warmth can help if you lose power, and  here are more tips to stay warm, also the National Weather Service suggests tips to close your blinds, along with shutting doors and closing off rooms to avoid wasting heat, wear layers of loose-fitting, warm clothing and to stuff towels or rags in cracks under the doors to keep the heat in. 
ERCOT announced this morning the highest level of emergency and the Energy Emergency Alert Plan is in effect because electric demand is exceeding supply. "Because of the severity of the event…the electric providers typically rotate these outages, but they haven't been able to because of the quantity, " Senior Director of System Operations Dan Woodfin said, during a media call on Friday morning.
ERCOT says 2 million homes have been impacted by power loss in Texas.