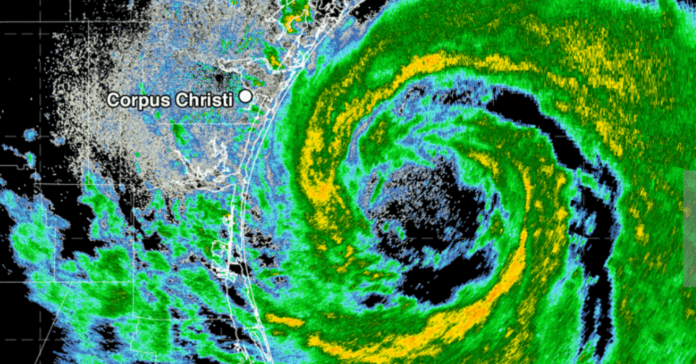 With Hurricane Hanna blowing ashore in south Texas, Gov. Greg Abbott held his first news conference in weeks.
The governor warned of flooding, high winds and tornadoes, but he also warned of increased spread of COVID-19 if residents in the area let their guard down and fail to social distance, wear masks and avoid large gatherings.
"I strongly urge you to remember to do everything you can to protect your lives and loved ones from the transmission of COVID-19," said Abbott. "Do not in haste take action that can cause you, a family member or loved one to lose their life in the coming weeks to COVID-19 by disregarding all of these practices we have become accustomed to using."
Hanna strengthened into a hurricane with winds of 75 miles per hour and took aim at the Texas coast south of Corpus Christi, an area of the state already hard hit by COVID-19.
Texas Division of Emergency Management Chief Nim Kidd said wind was a concern, but storm surge and flooding were bigger concerns.
"You need to remember to turn around, don't drown," said Kidd. "If you do not need to be out in this weather, do not get out in this weather. Please stay in place. Stay as high as you can, and there is no reason to get out and travel to go look and see what is going on.
In anticipation of the storm, the state positioned 390 Texas Department of Public Safety staffers, high-water rescue vehicles, boats, search and rescue teams, saw crews and helicopters in the area.
Additional personal protective equipment, medical personnel and 17 mobile COVID-19 testing teams are also on hand.
The Freeman Coliseum in San Antonio is serving as a Red Cross shelter, but the process will be very different from the typical shelter experience. People will check in and then be referred to a hotel or for medical care if they are sick and in need of treatment.
Other shelters could be opened, but the goal is to use hotel rooms as much as possible to avoid having large numbers of people together in one place where COVID-19 could spread quickly.
Abbott has issued a disaster declaration for 32 counties in South Texas, a move that makes the area eligible for federal financial assistance.
South Texas, especially the Rio Grande Valley, has been fighting to get the spread of COVID-19 under control.
"Don't feel like since we've been fighting COVID for five months that we're out of energy or we're out of gas. We're not," Corpus Christi Mayor Joe McComb said Friday. "We can do these two things together, and we're going to win both of them."
Abbott stopped holding news conferences for updates on COVID-19 weeks ago, opting instead for one-on-one interviews with selected TV stations around the state.