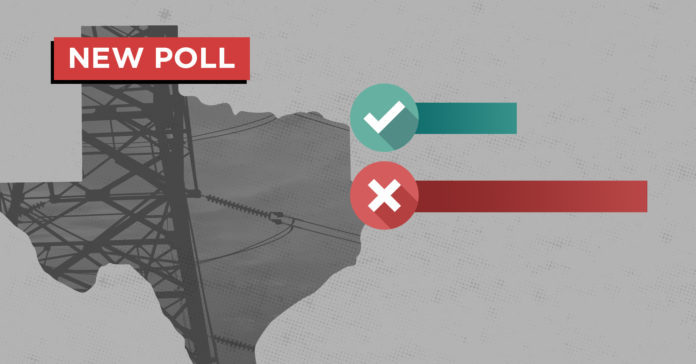 February 24, 2021
RA News conducted a statewide survey to evaluate the impact, causes, and potential responses to last week's winter storm, which left millions of Texans without power or clean water for several days. The survey – conducted February 23-24, 2021 – evaluated some of the claims made by state officials about the causes of the crisis; and with hearings scheduled, tested support for a series of consumer protections and legislative fixes potentially under consideration.
The survey shows Texans were broadly impacted by the power crisis, and are demanding accountability. They generally believe the state regulatory infrastructure and governance failed, and is deeply influenced by the energy industry. Texans reject the arguments the state could not have been prepared for the crisis and strongly believe the failure to learn from prior cold snaps are a significant cause of last week's crisis.
As taxpayers and energy consumers, Texans are firmly opposed to having to bear the financial burden of fixing an infrastructure they pay for and which left them in the dark and in the cold. Texans also believe the increase in extreme weather events caused by climate change should lead the state to maintain a comprehensive disaster impact fund for homeowners and businesses to cover their economic losses from these dramatic weather events.
Lastly, while a majority of Texans prefer to maintain their independence – in this case from the national power grid – they want serious upgrades to the energy infrastructure which is supposed to keep them safe and warm. They reject the criticisms of renewable energy and instead want to mandate higher quality infrastructure capable of standing up to extreme weather.
Findings of the poll follow:
Statewide Impact on Texas Families
A strong majority (63 percent) of respondents reported they or an immediate family member lost power during the statewide crisis, which left millions of Texans without power, heat, or clean water for several days.
Separately, 64 percent reported suffering economic losses as a result of the storm and subsequent crisis, through either lost wages, lost sales to business closures, or spoiled food.
A majority (55 percent) think they did not receive enough information to make decisions about how to get through the crisis, and 60 percent gave state regulators and utility negative rankings (poor or very poor) for how they kept Texans informed about when power would be restored.
Grading State Leaders and Power Providers
Texans gave state leaders negative grades in handling the crisis and getting power back on. 28 percent gave state leaders an A or B grade, 21 percent gave state leaders a C grade, and 51 percent gave state leaders a D or F grade. Texans had slightly better perceptions about their energy providers in handling the crisis and restoring power, with 46 percent giving their providers an A or B grade, 24 percent giving their provider a C grade, and 29 percent giving their provider a D or F grade.
In assigning responsibility for the crisis to energy companies or state regulators, a majority (56 percent) said Texas state regulators like ERCOT were more responsible, 11 percent said energy companies were more responsible, and 19 percent said the regulators and energy companies were equally responsible.
What Caused the Crisis?
Texans were asked whether they found varying statements made about the causes of the energy crisis over the past week to be credible or not credible, and they are not playing the blame-the-weather game. Texans generally rejected the arguments and excuses put forth by state leaders as the causes of the energy crisis, and were split on the state's ability to rely on renewable energy.
79 percent of Texans believe the failure to adopt the recommendations by the Public Utility Commission ten years ago (after a prior freeze event) was the reason the system crashed last week, and almost 69 percent of respondents rejected the argument advanced by some state leaders about how "the Texas energy grid is designed to operate in Texas heat not freezing cold, so nothing could have been done to prevent the energy crisis." In short, Texans believe the crisis was and should have been avoidable.
Further, almost 64 percent of respondents believe state regulations are weak because energy corporations have too much power over Texas government, and there is little oversight or accountability of the production, distribution, or delivery of power.
Climate Change and the Green New Deal
A strong majority (69 percent) believe Texas needs to harden its utility infrastructure to deal with the new reality of extreme weather events due to climate change. Further, 59 percent of respondents agreed with the ERCOT statement, where "gas, coal and nuclear failed more than wind power" and what we need is more resilient infrastructure.
Texans were split on the Green New Deal, with 52 percent believing a reliance on renewables would be bad for Texas, while 48 percent believe blaming the so-called Green New Deal for the energy crisis is not a credible argument.
Texans Are Demanding Action and Accountability
Texans were presented with a series of statements about potential legislative fixes to prevent future crises and consumer protections which should be considered in the context of this most recent disaster. For each, they were asked if they agreed or disagreed with the statement.
Ninety percent of respondents want an immediate, comprehensive, and nonpartisan investigation into what went wrong, determinations on how to fix it, and whatever the findings, state agencies and energy providers must be required to act.
Also, 90 percent of respondents believe Gov. Abbott needs to lead – by acknowledging the state's shortcomings, and then working with the legislature to ensure millions of Texans are never again placed at risk.
These two statements, taken together, are very strong signals of a near-universal frustration with the status quo, and the urgency with which taxpayers want their elected leaders to act.
Financial Relief for Taxpayers and Consumers
Texans are very opposed to having the bear the financial burden of the energy grid's failure. 94.5% of respondents believe state agencies and energy providers cannot pass the costs of weatherizing the energy system on to taxpayers and customers who were left in the cold and in the dark.
Further, 86% of respondents want rebates to customers who suffered economic losses, and believe ratepayers should not now face price increases for a failed system.
With extreme weather events occurring with increasing frequency, 70 percent of respondents believe the state needs a Disaster Impact Fund to compensate residents and businesses for economic losses from these drastic weather events.
Hardening Texas Infrastructure
While a majority of Texans (57 percent) believe the state should continue to have its own independent energy grid rather than join a federal system, 89 percent want to require Texas energy providers to upgrade production and transmissions lines, so the systems work year-round in extreme hot and cold weather.
And contrary to some claims made by state officials about renewables, 84 percent say we should not turn our backs on renewable energy but instead require better infrastructure capable of withstanding withstands extreme weather events.
Conclusion
While Texans are resilient and strong, as demonstrated by those who helped each other across the state get through this latest crisis – millions of Texans were placed at risk, and too many Texans died as a result of poor leadership and weak oversight of our critical infrastructure.
With reports showing how Texas consumers have paid at least $28 billion more for electricity over the past 20 years than they would have under the old, regulated system, one would hope those extra costs would have bene invested in a power grid as big and strong as the people of Texas. Instead, we got systemic failure, unexplainable delays, and rampant profiteering, which the federal government is now investigating.
Texans believe the system failed because government regulators did not do their job, and are wondering whether the legislature and state leaders will do what's necessary to protect us, or if in the next crisis, we will once again find ourselves left out in the cold and in the dark.
About the Sample

This survey was conducted February 23 – 24, 2021, using IVR technology which gathers keypad responses from land lines across Texas. The sample of 1,130 respondents has a margin of error of 2.92% at the 95 percent confidence interval; and is roughly weighted to reflect the voting population of Texas by age, race, gender, partisanship and geography.
Ethnicity
65% White
20% Hispanic/Latino
10% African American/Black
3% Asian American
2% Other/Refused
Gender
46.5% Male
52.5% Female
1.0% Nonbinary

Age Range
21% 18-34
26.4 % 35-49
28.1% 50 to 64
24.5% 65+

Geographic Distribution
30% Dallas media market
25% Houston media market
10% Austin media market
10% San Antonio media market
19% Combined Southern media markets
6% Other combined media markets
Partisanship
38.3% Republican
32.7% Independent
29.0% Lean Republican
For the polling toplines, click here.