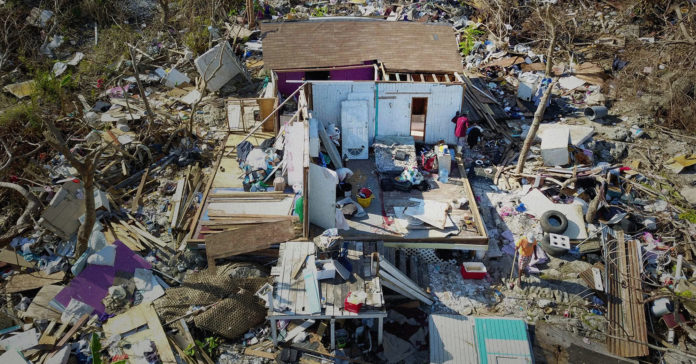 Hurricane Hanna caused an estimated $400 million in damage along the South Texas coast earlier this summer. Some of those losses might have been avoided with fortified construction.
The Texas Windstorm Insurance Association, the organization considered the insurer of last resort for residents in 14 Texas coastal counties, is recommending that the legislature consider a fortified construction program and funding for it.
Fortified construction helps structures stay intact when threatened by wind or flooding. It involves roof-to-wall straps, bracing for roof gables, thicker roof decking, stronger nails, sealing of roof deck joints to help prevent moisture penetration and reinforced doors and windows to keep out wind and flying debris. The entire structure is tied together from roof to foundation.
The Texas General Land Office is requiring fortified construction standards for any new homes being built with Harvey recovery funds. It is also endorsed by the Federal Emergency Management Agency, the U.S. Department of Housing and Urban Development, the Small Business Administration and the U.S. Department of Agriculture.
There are increased costs, approximately an extra 3% to 5%, associated with building to fortified construction standards, but insurance costs and the cost and extent of repairs in the event of damage are estimated to be less, according to the Insurance Institute for Business and Home Safety.
"When you think about this from a community-wide perspective, to have your residents be able to stay in place or come back from an evacuation and stay, it is very important," said Alexandra Cary with IIBHS.
The National Association of Mutual Insurance Companies pegs the cost savings at $6 to $11 for every dollar spent on fortified construction.
"A granite countertop costs more than a fortified roof costs, but yet, consumers are willing to pay the money to have a granite countertop that is going to get destroyed when their home gets destroyed," said Gina Hardy with the nonprofit North Carolina Insurance Underwriting Association.
In 2016, there were a total of 63 homes in the U.S. with fortified roofs. Today, there are 1,613 North Carolina is the leader with 1,463 of those fortified structures. Texas has just 66.
Hardy believes there are opportunities for Texas to learn from North Carolina's experience. Her list of recommendations include:
educating property owners about the value of fortified construction
engaging the building community
seeking governmental funding
starting a grant program.
TWIA board members questioned the prudency of using policyholder dollars to pay for a program. With that in mind, language seeking guidance from the legislature has been included in the draft of the association's biennial report to state lawmakers.
It's obvious it works, but it's going to be the funding that is the key," said TWIA board member MIchael Gerik in summing up the board's thoughts.