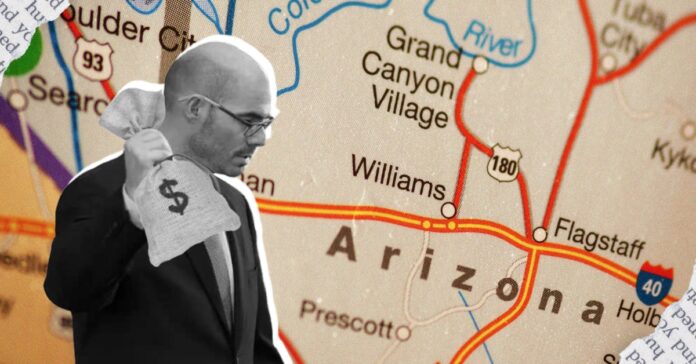 Dennis Bonnen, former Speaker of the Texas House and fierce opponent of the far-right push for school vouchers, has joined the Goldwater Institute, sources say. The Goldwater Institute has been a relentless force for school vouchers for years.
"School choice" continues to be a rallying cry for Texas conservatives who claim that public schools are teaching inappropriate lessons and want to use taxpayer funds to send their children to private, usually religious, schools. This is in spite of the fact that Texas parents already have the option to send their child to a different school if it doesn't meet their child's needs. The fight is wrapped up in the current backlash to teaching students about the role of white supremacy in history, the importance of the labor movement, and acknowledging LGBT people in social studies and literature. Governor Greg Abbott recently embarked on a statewide tour to promote his version of a voucher program, an Education Savings Account.
In 2019, Bonnen was a consistent opponent of similar pushes. Bonnen had expressed some pro-voucher sentiments in 2013, but by the time he became House Speaker had become a regular no vote. At the time, Bonnen had the funds to stand against the swell of money from the likes of oil moguls Farris Wilks and Tim Dunn, who have poured campaign contributions into the fight for vouchers.
Bonnen was ultimately brought down after a fight with the Empower Texans political group, a far-right activist organization that targets candidates not deemed conservative enough. Bonnen attempted to use them to go after some opponents. He resigned in 2021.
Now, he is working for the Goldwater Institute. Named for the famously racist former presidential candidate Barry Goldwater who fought hard for racially segregated schools (a common outcome of voucher programs), the Goldwater Institute has been very active in states advocating for vouchers.
In 2015, they won a case to protect a voucher program in Louisiana. In 2022, they participated in a petition to launch a voucher program in Arizona. It fell short of the required signatures. Opponents, both in Arizona and Texas, argue that doing so would drain billions of dollars from the public school system when the students transfer to private institutions, tearing apart communities, particularly rural and ethnic-minority ones.
Bonnen taking a position with Goldwater is a bad sign for the fight in Texas. Despite his fall from power, Bonnen still has a wealth of connections from his long career in Texas politics. Seeing the formerly stalwart anti-voucherist change his tune on Goldwater's dime could sway the remaining Republicans who are under pressure from the leadership to make the voucher system happen this session.
The disgraced Speaker looks to have dropped his previous positions by the wayside thanks to the big money in the voucher fight.