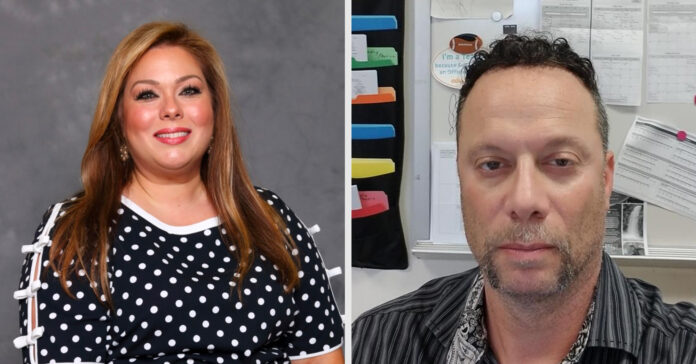 On January 6, 2021 rioters wanting to upset the November 2020 presidential election results and force the certification of Donald Trump as the U.S. President, attacked the Capitol building in Washington, D.C. So far, at least 884 people involved in the attack have been charged with criminal offenses ranging from disorderly conduct to assault. While most of the rioters have been convicted of misdemeanors and sentenced to fines, home confinement, and probation, Guy Refitt from Wylie, Texas was recently sentenced to more than seven years in prison – the longest sentence yet.
Julie Pickren, former board member of Alvin Independent School District and current candidate for the Texas State Board of Education was among the crowd that day calling for the overthrow of the election results and the violent transfer of power from Joe Biden, the duly elected president to her choice, Donald Trump. Pickren – a school board member at the time – documented her involvement on social media and faced immediate backlash for her involvement. Pickren was removed from the Alvin ISD school board shortly thereafter.
While this would have been the death knell for most politicians in the past, it gained national notoriety for Pickren among extremist right-wing supporters. Instead of going to the house, Pickren decided to launch a bid for the District 7 position on the State Board of Education (SBOE). Pickren aims to replace SBOE member Matt Robinson who decided not to run again because of redistricting. Robinson believes Republican lawmakers intentionally "redistricted him out" because he was not supportive enough of charter schools. The state currently spends over $6 billion, or 15% of education funds, on charter schools that educate 7% of Texas students.
Charter school expansion is not the only thing that Pickren has in her sights if she's elected to the SBOE. She joins other extremist politicians in claiming that the state's public-school libraries are chock full of pornography and are actively teaching Critical Race Theory (CRT).
By contrast, Pickren's opponent, Dr. Daniel Hochman is a teacher for the Galveston Independent School District with a Ph.D. in Experimental Pathology from the University of Texas. Hochman was selected for one of only ten, 3-year Fellowships offered in The State of Texas from Rice University to study and create best practices for cultural inclusion in STEM classrooms and received an ExxonMobile fellowship to create curriculum for the Next Generation Science Standards (NGSS) being adopted by Texas next year.
Robinson, a Republican who is currently serving out his term on the SBOE, is endorsing Hochman over Pickren. While Hochman appears to be infinitely more qualified for the SBOE than Pickren, Robinson is also supporting him due to Pickren's position on public schools.
"She is leading a fight, an assault on public education that's going on right now. It's not among all Republicans, but it's among a good number and she's kind of leading that fight. And the idea that Critical Race Theory is going on in most schools and most districts, which is entirely false. So her overall approach is, in my view, anti-public education," Robinson said.
Still, Hochman faces an uphill battle as his opponent has outspent him 4-1, receiving large donations from far-right wing Republican donors like Kathaleen Wall, who spent $8.3 million unsuccessfully running for the U.S. Congress.
Hochman also contends that Pickren's campaign should not be allowed because of her participation in the events of January 6th. "Technically, because that's been called an event of sedition, she was violating her oath of office. She shouldn't even be allowed to run by the 14th Amendment. But there's no judge in Texas that would follow up on that," Hochman said
Whether or not voters in SBOE District 7 are concerned enough about Pickren's insurrectionist activities on January 6 remains to be seen. Many Texans continue to vote for Attorney General Ken Paxton even though he has allegedly engaged in illegal activities. Paxton was indicted for felony securities fraud charges several months after he first became attorney general in 2015. In 2020, the FBI began investigating him over claims by former deputies that he abused his office to help a wealthy donor. He has denied wrongdoing in both cases.
As the January 6 Hearings continue to reveal startling information about the attempted coup on the Capitol, a growing number of people are more and more concerned about the actions of those involved. District 7 voters will need to decide if they are comfortable voting for someone who was calling for the overthrow of the U.S. government for their allegiance to one man.