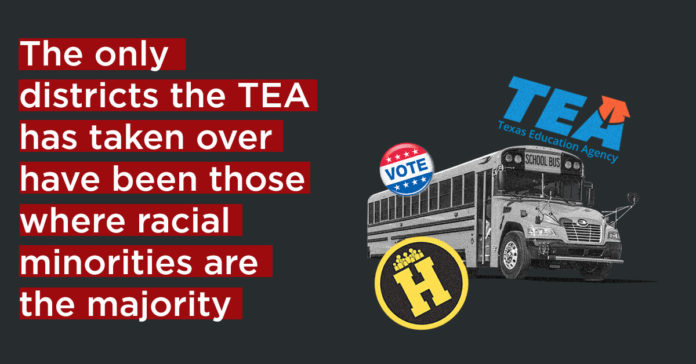 The Harlandale ISD board of trustees is considering a federal civil rights lawsuit against the Texas Education Agency as a way to fight a proposed state takeover of the district.

The TEA has been taking over districts for decades, and so far the takeovers have been related to financial, academic or governance improprieties.

However, Harlandale ISD attorney Kevin O'Hanlon pointed out that the only districts the TEA has taken over have been those where racial minorities are the majority. O'Hanlon believes that this puts the TEA in violation of the federal Voting Rights Act.
O'Hanlon's case might hold a little bit more water if Harlandale ISD hadn't been in a prolonged fight with the state's school monitoring agency since 2017. The legal battle stemmed from complaints against and media investigations into various corrupt practices at Harlandale ISD.

Many of the district's legal problems stem from the actions of former superintendent Rey Madrigal. Madrigal was removed from his position in July 2019 after TEA investigators determined he had hired a number of his relatives, including his cousin who was named principal of Harlandale High School.

Madrigal also received a sweetheart deal on vacation property from a vendor who had worked with the school district. He also hired an insurance company that employed a former Harlandale ISD board member, the board member pleaded guilty to bribing school board members to secure contracts.

The TEA found that Madrigal wasn't the only HISD official to have violated the law. The trustees failed to provide adequate oversight of district finances, violated the state open meetings act and overrode both state law and district policy about contract amendments, according to a letter from the TEA.

The state agency notified the district that it planned to replace Madrigal with an overseer, replace the trustees with a board of managers and reduce the district's accreditation status to accredited-warned. The board appealed the decision to Texas Education Commissioner Mike Morath.

Despite Madrigal losing his job, Harlendale ISD paid him a $60,000 severance package. The district also paid $100,000 in legal fees to fight the TEA.