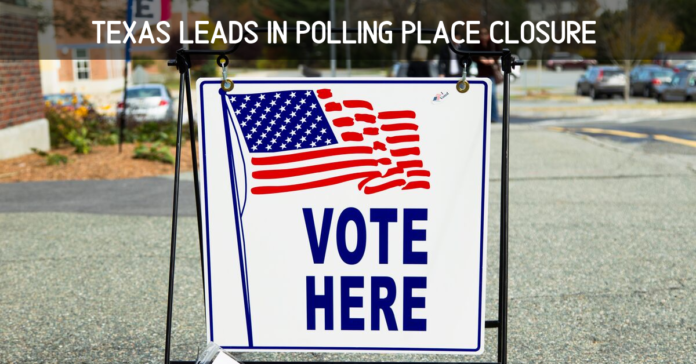 It has become increasingly difficult for Texans to exercise the right to vote as a record number of polling places have closed.

According to a new report by the Leadership Conference Education Fund, Texas tops the nation in shutting down polling sites. The state has closed 750 locations since 2013 – something civil rights advocates warn will disenfranchise voters.

Texas has a dark and lengthy history with voter suppression tactics, including all-white primaries, racial violence, and poll taxes. Additionally, Texas' voter identification laws have been found by three federal courts to have violated the Voting Rights Act by disproportionately burdening voters of color.

The Voting Rights Act of 1965 (VRA), a historical achievement of the civil rights movement, outlawed discriminatory voting practices adopted after the Civil War. A critical component of the VRA, Section 5, required jurisdictions with a record of racial discrimination in voting to submit proposed changes to voting laws for approval. Known as the preclearance provision, Section 5 required these jurisdictions to prove proposed changes would not negatively affect the right to vote on the basis of race, color, or membership in a language minority group.

Because Texas was found to have consistent patterns of discrimination, the state was required to submit any changes in polling places or district maps to the U.S. Justice Department for approval prior to implementation.

All that changed in 2013, when the U.S. Supreme Court decided Shelby v. Holder. In a 5-4 ruling, the Roberts court found Section 4(b) of the VRA unconstitutional. Section 4(b) is the portion of the act that used a jurisdiction's history of voter discrimination to create a coverage formula that determined which states and local governments were subject to preclearance

The Shelby decision essentially rendered Section 5 ineffectual, which cleared the way for Texas to start reintroducing voter discrimination tactics. Within weeks of the Supreme Court ruling, then-Attorney General Greg Abbott announced stringent new voter ID laws.

Since Shelby, many states have utilized various voter suppression tactics, some of which were specifically designed to stymie participation in minority communities. Some of the more egregious tactics include making routine mistakes on a voter registration card a felony and attempting to purge thousands of voters from the rolls.

Identifying states that make discriminatory changes to voting laws before the laws go into effect is significantly more difficult without Section 5's requirement that states notify federal officials of changes.

Before Shelby, states were required to notify voters of polling place closure well ahead of the election. Since Shelby, states are no longer required to notify voters of the closures – which has resulted in quiet, last-minute closures that make pre-election intervention or litigation extremely difficult.

The closure of polling places creates a ripple effect, leading to transportation difficulties, longer lines at some polling locations, and lack of language assistance or other forms of in-person help. These closures disproportionately affect older voters, voters of color, voters with disabilities, and rural voters.

The report, titled "Democracy Diverted: Polling Place Closures and the Right to Vote," states, "Though not inherently discriminatory, these polling place closures occurred in states and localities with past histories of racial discrimination in voting. And some took place amid a larger constellation of efforts to prevent voters of color from electing the candidates of their choice, such as enactment of stricter voter identification laws, restrictions on voter registration, and voter purges."

Democracy Diverted identifies 1,688 polling place closures between 2012 and 2018, nearly half of which took place in Texas – a state where 39 percent of the population is Latino and 12 percent of the population is African American.

Of the top ten largest polling place closures, six were Texas counties. Dallas County, which is 41 percent Latino and 22 percent African American, is second on the list with 74 closures. Travis County, 34 percent Latino, closed 67 polling places. Harris County, 42 percent Latino and 19 percent African American, closed 52 polling places. Brazoria County (30 percent Latino and 13 percent African American) and Nueces County (63 percent Latino) both closed 37 polling places.

Moreover, 14 counties in Texas have shut down 50% or more of polling locations.

One reason Texas has closed so many polling locations is that the state is transitioning to the "vote center" model. Unlike assigned polling places, with this program voters can cast their ballots at a voting center of their choice. Though the model is intended to increase access to voting, it often leads to mass reductions in voting locations.

For a county to apply to the Countywide Polling Place Program (CWPP), they must document their plans to meet program requirements. When a county is converting to the CWPP, they are allowed to close 35% of polling locations in the first election after conversion, and 50% of polling locations in subsequent elections. Civil rights advocates have expressed concerns that the CWPP does not provide safeguards to prevent discrimination with voters of color.