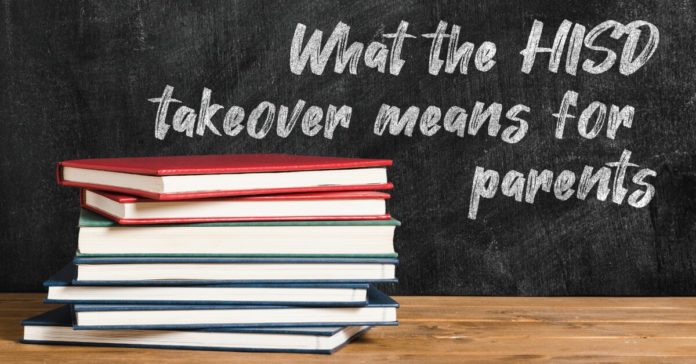 Last week, Texas Education Commissioner Mike Morath made it official that there will be an HISD board takeover. The question is: what happens now? What can parents and teachers expect?
"Speaking as a parent in HISD myself, I expect no difference in the way that the schools are managed," says HISD Trustee Sue Deigaard, District 5. "That's up to the administrators, obviously, but we are all working together to ensure equitable outcomes for the students in the district."
Whether parents and children were dreading or hoping for something drastic to happen once Morath brought down the hammer, it looks like for the foreseeable future the schools will be run as they have been.
The elected Board of Trustees will continue working as they normally would. However, Morath will be appointing his own board who will perform just as the elected board did until such time as the elected board is reinstated.
According to Deigaard, the board does not handle the day-to-day running of the schools, even troubled ones like Wheatley High School, whose poor academic standing was one of the reasons the Texas Education Agency recommended a need for new leadership. After the HISD board takeover, the state-appointed board should be functionally identical despite not being elected to serve.
"We met with a representative of TEA over the summer and heard from the community," says Deigaard. "I told them, 'the same things you expect out of an appointed board are what you should expect out of an elected board, and vice versa.'"
HISD adds in a written statement:
"The Houston Independent School District has received a letter from Commissioner of Education Mike Morath regarding the appointment of a board of managers. We want to assure our students, parents, staff, and community members that our primary focus will continue to be the education and success of our students."
The good news for parents worried about the lack of representation in the new, appointed board is that TEA is accepting applications right now for people to serve on the Board of Managers.
Positions are open to eligible voters in the HISD boundaries who have not been convicted of a felony, a crime that involves finances/fraud/theft, or a crime that involved a child. They must also be able to pass an FBI background check and complete conflict of interest disclosures twice annually.
Training and time commitment are necessary to serve, so the process should produce a board of people fully committed to improving the lives of HISD students rather than political cronies.
That's some comfort to Houstonians that have watched the state steadily meddle in the city's affairs more and more for what appears to be purely political reasons. Applicants have until January 2, 2020, to apply, but are warned that applicants who apply later in the window may not be considered.
The decision to appoint a new board came after months of investigation by the TEA. In addition to the problems at Wheatley, the elected board was accused of violating the Texas Open Meetings Act.
Allegedly, members had a history of "serial meddling" in the affairs of the district, including using a "walking quorum" to try and replace interim superintendent Grenita Lathan with Abe Saavedra. There were also concerns involving contract awarding and the way the Trustee Allocation Fund was being treated as a slush fund for district projects.
The TEA's investigation accuses board member Serio Lira, District 3, of lying to investigators when confronted about a meeting with Saavedra.
In their report they conclude, "Lira failed to cooperate with the Agency's investigation by falsely claiming that there were no other trustees present when he met with Dr. Saavedra…It is hard to imagine how Trustee Lira forgot Trustees Santos, Sung, and Flynn Vilaseca were also present when he met with Dr. Saavedra."
HISD board takeover may seem drastic, there is little doubt that voters in HISD were ready for a change after the tumultuous investigation. Both Lira and President Diana Dávila, District 8, lost their recent re-election bids. Their replacements will be sworn in, but it is only a matter of time until their power is revoked for the upcoming Board of Managers.
Elected to the HISD board in 2017, Sue Deigaard is prepared no matter how short her term may be.
"I will continue to do my job, whether I am here for three more days, three more weeks, or three more years," she says. "Whether I am on the board or not, I plan to continue trying to make HISD better."