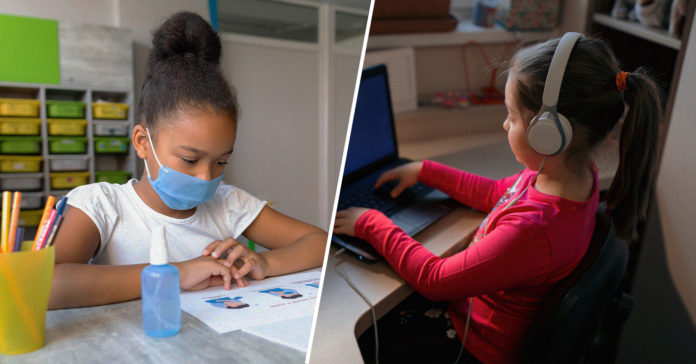 Despite the best efforts of school districts in Texas, the number of students enrolled in school may be down as much as 4%.
The Texas Education Agency is not likely to have any solid enrollment data until February, according to spokesperson Tomoko Traphagan. The delay is being chalked up to slow reporting from the state's school districts.
"Everyone is still organizing their data," she said.
However, there has been some analysis done by outside groups. Texas 2036, a policy analyst group founded by Dallas attorney Tom Luce, recently crunched the numbers, and they show a profound drop.
"According to the data, many Texas school districts face lower enrollments and millions of students — especially those from low-income communities — continue to have virtual and not in-person instruction," says the report. "Based on data from 99 percent of Texas school districts, there are a projected 242,000 fewer students enrolled in Texas public schools — including both in-person and remote learners — than there were last year. This would be a 4 percent decline in year-over-year student enrollment, unprecedented in a state that has long had one of the fastest-growing student populations in the nation. Enrollment declines have been experienced by all types of districts: rich and poor, urban and rural. Of districts that reported data, 73 percent have seen declines in student enrollment from last year to this year."
The report was gathered from resources provided by the TEA and the Department of State Health Services. It cautions, as Traphagan said, that the numbers are definitely incomplete and likely do not tell the whole story just yet. What is apparent is that many Texas children are being left behind, especially when it comes to remote learning access. Despite the efforts by TEA's Operation Connectivity to connect every child with the internet for schooling during the COVID-19 pandemic, some still are not receiving it.
Of additional concern is the gap between in-person learning and remote. A cursory glance at any parenting Facebook group will show that many Texas families feel that children learning remotely are receiving poorer instruction. This might be turning far more parents toward homeschooling their kids rather than enrolling them in public schools.
Houston ISD, the state's largest school district, has definitely seen a decline. The district has roughly 13,000 fewer students than it did at this time in 2019, and the district says most of those are at the pre-K and elementary school level. It has launched an aggressive campaign to locate the missing students and try to get them enrolled.
"HISD has encouraged families to enroll by adding an online enrollment process and providing enrollment information on the district website, offering support with enrollment process, and advertising pre-K programming — in English and Spanish," said their press office. "Additionally, prior to the snapshot date of Oct. 30, the district made a targeted effort to locate students in grades 7-12 who were no-shows during the first week of school by conducting a mail campaign, leveraging personalized phone calls and home visits. Through these efforts we've been able to make contact with 876 students and enroll an additional 482 students. Campus staff continue to reach out to students to locate them and support them with re-enrollment efforts."
A major question left to be answered is how so many missing students will affect district budgets, which are tied to enrollment. For now, the state is offering some reprieve by offering an extension for the date where they would consider cutting budgets because of decreased enrollment.
That reprieve is only temporary, and it is due to expire in many districts at the end of the semester. The threat of lost funding for basic operating expenses is one of the reasons so many districts have been searching hard for students who have fallen off the rolls, in some cases with teachers literally knocking on doors to reach them. The Texas School Alliance, which represents 40 percent of Texas students, has petitioned the state to extend the reprieve through the rest of the academic year. This will likely be one of the many issues the new state legislature will take up when it reconvenes in January.
In the meantime, schools are braced for the hit to their wallets that low enrollment will eventually cause no matter how long the reprieve is extended. The effects of empty classrooms will be felt for years to come.
"Lower enrollment counts will impact the district budget for the 2020-2021 and 2021-2022 school years," said Houston ISD.