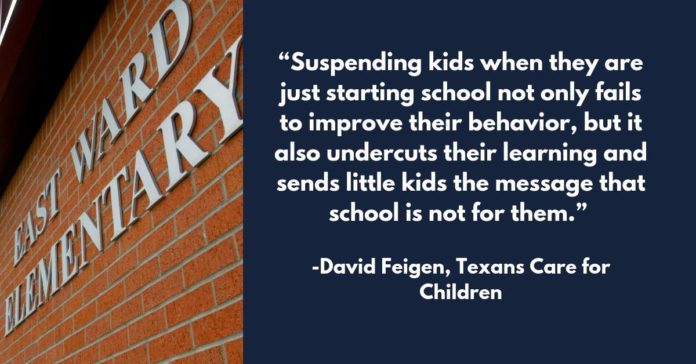 In Texas, a 4-year old black child is more than twice as likely to be suspended from school as a white one. A boy in kindergarten is almost five times as likely to receive in-school-suspension as a girl. Second graders in foster care are suspended at nearly four times the state average.

These findings were included in a new report from Texans Care for Children, an Austin-based, non-partisan policy organization. The report takes a statewide look at in-school and out-of-school suspensions for students in pre-K through second grade.

Over the course of the 2017-18 school year, Texas schools suspended 4-6 years old students more than 70,000 times, according to the report. As damning as those numbers are, they are getting better.

In the 2015-16 school year, early elementary students were suspended more than 100,000 times. More than 36,000 of those suspensions resulted in children 4-6 years old being unable to attend school.

When the Texas Legislature passed HB 674 in 2017, the number of out-of-school suspensions for students in pre-K through second grade dropped to 7,640.

The decrease in out-of-school suspensions came about because the law limits the use of such a drastic disciplinary action to extreme situations, such as a child bringing a firearm to school.

As researchers dug through the data, they found that one school district had an outsize presence. Killeen ISD had 1.6 percent of Texas' pre-K enrollment; but accounted for 44 percent of the state's pre-K in-school-suspensions.

Out of the district's approximately 3,300 pre-K students, only 277 individuals received the 1,018 in-school-suspensions handed out.

In a written statement, Killen ISD acknowledged the disproportional impact the district has on state data. The statement also discussed some of the steps the district has taken to rectify the situation.

During the 2017-18 school year, KISD had more than 500 out-of-school suspensions for pre-K through second grade students. After that year district staff met with the Texas Education Agency.

Over the course of the 2018-19 school year, KISD was able to reduce the number of out-of-school suspensions for early elementary students to four. However, the district wasn't as successful in reducing the number of in-school-suspension.

"In reference to ISS, the numbers remained stagnant between the two school years," the statement read. "We continue to work with parents and campuses to better understand the whole child and identify all variables when approaching student behaviors."

The statement goes on to assert that KISD has set aside $1.5 million for a mental health and behavior support pilot program. Despite KISD's large number of in school suspensions, the district only comes in second.

Tiny Jasper ISD in East Texas gave 92 in-school-suspensions to 122 pre-K students. The vast majority of the in-school-suspensions went to just 22 students. Texans Care for Children summed up their findings by recommending against suspending early elementary students.

"Suspending kids when they are just starting school not only fails to improve their behavior, but it also undercuts their learning and sends little kids the message that school is not for them," wrote David Feigen, an early education policy associate at Texans Care for Children.