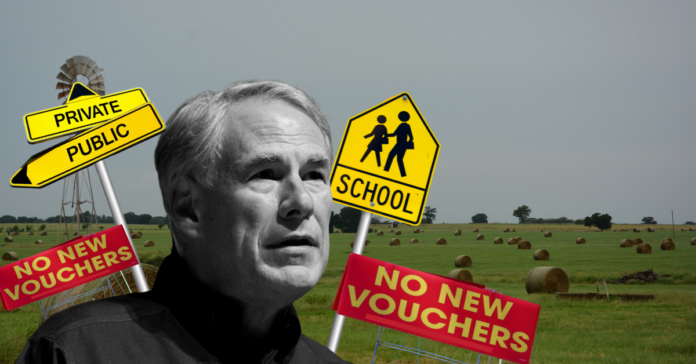 Heading into next year's legislative session, the talk in Austin is focusing mainly on school choice, but many rural conservatives don't like the direction Texas Republicans are heading.

School choice is a broad term that has been thrown around by Texas Republicans, who wish to apply a host of tax-payer-funded alternatives to sending a child to the local public school.

While the Texas Legislature doesn't meet for another five months, Gov. Greg Abbott has already been very vocal about his support for public school alternatives.

Abbott has said he supports parents' "choice to send their children to any public school, charter school or private school with state funding following the student." But, out in Texas' rural districts, many lawmakers don't see eye to eye with the Lone Star State's Governor.

Why are public schools sitting in the backseat?

Adrian Johnson, Texas school superintendent, told The Texas Tribune, that he didn't understand why Texas lawmakers' to-do list seemed to focus more on school choice over school safety — after the school shooting in Uvalde, there has been a renewed conversation about campus security.

He also wonders why public schools always take a back seat to the pursuit of policies that could diminish them.

"Why not make it imperative to support the local school district?" he said.

In the northeastern corner of the state, Rep. Gary Van Deaver, a Republican whose district includes 30 rural school districts, is also unconvinced.

In smaller Texas cities and towns, there's far less "choice" for rural students. Outside of large metro areas, private schools are few and far between. He also worries about the damage to the local public school district a voucher program could cause.

"This sense of community is what makes Texas great, and I would hate to see anything like a voucher program destroy this community spirit," he said.

In the past, conservative efforts to pass school choice measures have failed largely because there are few private schools or charter schools as alternatives outside the state's larger urban areas. And because the public school system is a large economic and employment driver for most small towns.

Proponents say more school choice options will help lower-income families afford better education, however, opponents believe these policies will only weaken the public education system because they can result in public school dollars going to private schools, which are largely unregulated and therefore unaccountable.

Van Deaver looks forward to the debate next session. According to The Texas Tribune, he wants to see a better accountability system created for private schools receiving the money.
"As conservatives, we expect it from our public schools," he said. "We need to know that we're getting bang for our buck for every educational dollar, wherever it's spent."