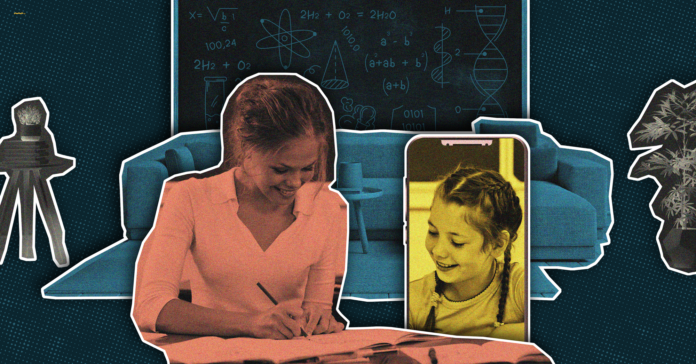 Texas schools have been closed since mid-March due to the coronavirus pandemic, and Gov. Greg Abbott has announced that they will remain closed through the rest of the 2019-2020 school year. A lot has been written about how families and children have been adapting (or not) to this new paradigm of remote learning, but what about the teachers?
Most of the ones we spoke with seem to be erring on the side of compassion in this difficult time, particularly for elementary-age children. Though many districts are still technically grading work through Google Classroom and other remote venues, they are often participation grades rather than scholastic ones. This is because it is very difficult to teach through packets and check-ins.
"What I told my kids is that their learning is now in their hands for the first time, and that this is their first taste of adulthood," said North Shore Senior High School English teacher Jeff Derrickson. "They now can take the initiative to control their learning, and base it on their own interests and passions. As far as the standard 'today I'm going to teach you how to analyze a poem,' that has been hindered quite a bit because learning is a two-way process. I can't see how they are processing the info until they send something back to me, and that has taken a long time with distance learning."
Many teachers are concerned that the remote learning format will leave students behind. Rural districts in particular are at risk. More than a third of Texas homes don't have the broadband connections optimal for schooling remotely. Beyond that, some students simply don't react well to the format or may not have the support systems at home necessary to make the most of it.
"Honestly it's hard to tell if they're learning," said Beatrice Waide, who teaches Texas history at Cedar Creek Middle School. "I think they're doing the work, but because online learning only hits certain learning types, I think some learners will be left behind, or struggle. Our main goal at my school during this is to lessen the gap we know will occur."
On the other hand, the pandemic has some bright spots. Teachers are seeing the benefits of some of the technological workarounds that have been implemented across the state. Zoom has been quite popular, and it allows them to reach students and parents when in-person meetings are unfeasible.
"I plan on implementing Zoom video conferencing for parent contact for the rest of my career," Derrickson said. "This also pretty much proves that students can work from home if they have a circumstance that hinders their coming to school every day."
Others see it as a wake-up call for the whole system after revealing its weaknesses.
"My hope is that the long-term impact will be massive reform in education," said Waide. "Less focus on tests and more on learning. These kids today need problem-solving, reading comprehension — the basics. Without those basics, a lot of the kids right now are left without the skills to learn for themselves."
"The long-term impact on society is hard to say. How different will schools look once the dust settles. For my generation, it was Columbine and 9/11. For this generation, it's COVID, and I don't think we'll fully understand the effects until later. Will schools be required to limit class size more strictly? And with that how are we going to build the schools to accommodate that? My school is already over capacity. And we haven't gotten a bond passed to help update the schools in the last few years."
Overall, the teachers Reform Austin spoke to all express general happiness with the ways that their districts have handled the crisis. With STAAR testing also canceled, there seems to be less focus on the standardized curriculum and more on trying to reach kids at home who may be under stress.
Teachers are sensitive to the fact that children have experienced massive upheavals since Spring Break. The elementary school social studies program in Cypress-Fairbanks Independent School District, for example, has been dedicating their assignments to social coping mechanisms rather than civics and history.
Throughout the education system, there seems to be the idea that this is a temporary situation that simply needs to be gotten through.
"My students are in different places. Many are at home and miss school, their friends and even us teachers," said Jamie Langley, an eleventh-grade teacher in Austin Independent School District. "Some are working and, in some cases, the only one at home who is still working. And some who are caring for younger family members. Between the district guidelines and the school's expectations, I feel both are handling this to the best in the situation. The needs of our students come first."