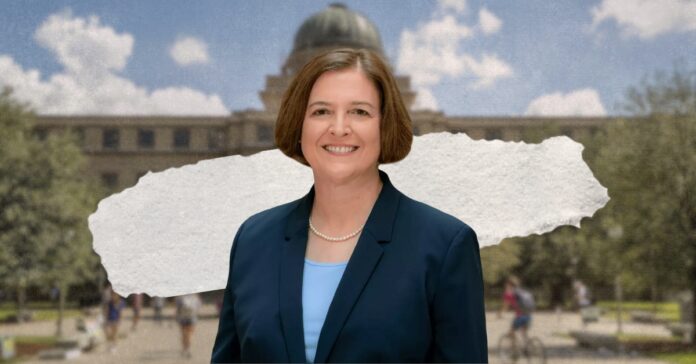 In a surprising turn of events, Texas A&M University President M. Katherine Banks announced her resignation from the esteemed position. The decision came just days after she vehemently denied any involvement in the botched hiring process of a new journalism director, Kathleen McElroy.
The dispute arose when negotiations with Kathleen McElroy, a respected Black journalist, fell apart due to the university's decision to water down her contract.

According to McElroy, in response to concerns raised about "DEI hysteria" (Diversity, Equity, and Inclusion,) she initially agreed to a five-year contract position without tenure. However, she then received a third offer, which consisted of a one-year contract, and emphasized that her appointment would be at-will, meaning she could be terminated without cause at any moment. McElroy ultimately declined this offer and shared all her offer letters with the Texas Tribune.

She expressed her disappointment, feeling that she was being judged based on race and possibly gender. McElroy, who is a Black woman and a native of Houston's Third Ward, added, "And it seems that my being an Aggie, wanting to lead an Aggie program to what I thought would be prosperity, wasn't enough."
Banks' resignation letter addressed to A&M System Chancellor John Sharp, acknowledged that the recent challenges related to McElroy's hiring had led her to an immediate retirement. 

"The recent challenges regarding Dr. McElroy have made it clear to me that I must retire immediately. The negative press is a distraction from the wonderful work being done here," Banks wrote in the resignation letter first obtained by the Texas Tribune.
McElroy's selection as the director of Texas A&M's journalism program was initially met with celebration within the industry. However, changes to her contract appeared to be wrapped up in "DEI hysteria" as universities figure out how to comply with a statewide ban on Diversity, Equity, and Inclusion programs and how to handle race-related work on their campuses, she told The Texas Tribune.
Despite the controversies, McElroy emphasized that her work at Texas A&M wouldn't have much to do with diversity or equity. She said she was hired to focus on curriculum development, reaching underserved audiences across the state, program expansion, faculty recruitment, and internship opportunities for future student journalists.
The controversy surrounding McElroy's hiring also impacted Interim College of Arts and Science Dean José Luis Bermúdez, who also resigned due to his communications with McElroy during the hiring process.
Prior to serving as the university president, Banks had a notable career as vice chancellor and dean of engineering for a decade. During her tenure, she played a significant role in making Texas A&M the sole university in Texas to assist in managing the prestigious Los Alamos National Laboratory.

According to a news release Thursday, she was also credited with the establishment of EnMed, a unique program training engineers to become medical doctors and the remarkable enrollment growth in the engineering school.
Mark A. Welsh III, the dean of the Bush School of Government and Public Service, has been appointed as the acting president of Texas A&M following Banks' departure, according to Sharp, Texas A&M University System Chancellor.