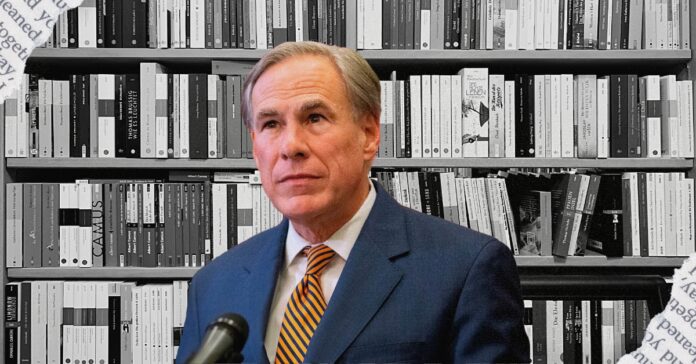 As the far-right culture war against books and students heats up, librarians are increasingly finding themselves targeted by state authorities over books conservatives find objectionable.
Eric Dexheimer of The Houston Chronicle reported this week on how Kerrville librarian Danielle Brigati has been visited several times by police because of accusations of supplying pornography to minors. Though her interactions with the cops were overall friendly, the officers made clear to her that a handful of residents were looking to file criminal charges against her. There have been at least five instances of police called to libraries over books.
The books that are challenged as pornography are almost universally LGBT coming of age stories that explore burgeoning sexuality. A common example is Alison Bechdel's Fun Home, a comic book memoir about growing up with her closeted gay father. The book contains some sexual scenes, including light nudity, and was the recipient of a MacArthur Grant. It is no more pornographic than the film versions of "Romeo and Juliet" that are shown by teachers in English classrooms across Texas, but Bechdel's overtly gay text has put it in the crosshairs for conservatives.
Labeling LGBT content pornography has been the preferred method of attack from Texas Republicans. Governor Greg Abbott's letter to the Texas Association of School Boards last November openly accused librarians of providing pornographic material to students. His viewpoint has been challenged by other Republicans, including several legislators in both the House and Senate that have filed legislation making it easier to prosecute librarians for stocking books like Fun Home.
It is already illegal in Texas to provide a minor with pornography. However, due to longstanding ruling by the U.S. Supreme Court over the years, the actual definition of what counts as pornography has remained hard to pin down. Merely having nudity or sexual situation does not meet the definition.
According to Cornell Law School, "the presence of nudity or sexual acts in piece of media does not necessarily make that media pornographic if the purpose of that media form is something other than sexual stimulation." Books like Fun Home explore sexual themes, but are clearly using those themes as part of their larger stories about growing up LGBT.
If current Republican trends in legislation are any indication, a push to punish librarians could have devastating consequences. From abortion to voting access, vaguely-worded laws and practices pushed by conservatives over the last several years have resulted in an environment of terror where both professionals and everyday people are unsure whether their actions are now legal. If Texas Republicans continue with their library bill as they did with other far-right actions, it will likely be very easy for any parent or interested party to declare a book too obscene to be given to children and refer the librarian for prosecution.
Thus far, the calls for police to infiltrate the library have largely fizzled before anyone was arrested, but more and more conservative Texans are using cops to fight books they don't like.