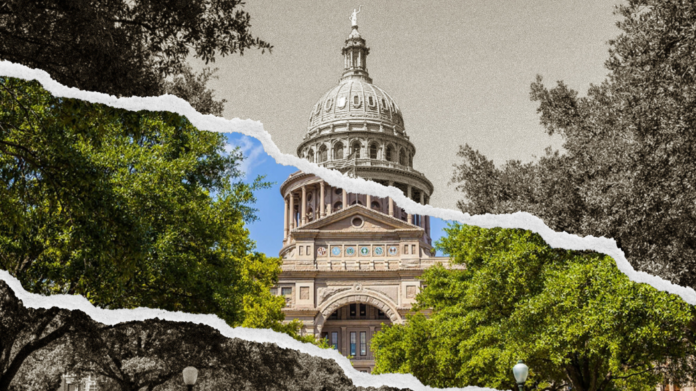 As school doors open, the absence of adequate funding looms, casting a shadow over the public education system's future. This unsettling reality raises concerns that some schools might never experience future first days due to a lack of funding.
Despite a massive $30 billion-plus budget surplus, state lawmakers declined to pass a teacher pay raise bill or a comprehensive school funding plan.

Due to this massive setback, a handful of school districts are contemplating a bold move: withholding their "recapture" payments to the state.

According to Bethany Erickson from DMagazine, the Spring Branch district near Houston initiated this decision, which was subsequently supported by Keller ISD's board. Other districts, such as Carroll ISD and Grapevine-Colleyville, are also considering voting on withholding their payments.

The "Robin Hood" Process
Let's delve into what "recapture" actually entails. It's a mechanism through which the state redistributes a portion of property tax revenue collected by local school districts. To put it simply, affluent school districts that generate more property tax revenue are required to contribute a share of their funds to the state's general fund, which is then allocated to less affluent districts. This redistribution process has earned the moniker "Robin Hood."

When a district's property values per student exceed a state-set threshold, it must "equalize" its wealth.

Since its inception in the early 1990s, the number of districts subject to recapture has grown significantly. In 1994, the first year of the program, $127 million was collected from 34 districts. In 2021, the state collected over $3 billion from more than 170 districts.

During a special session in July, property tax reform bills were passed, compressing school property taxes to reduce maintenance and operations property tax rates by 10.7 cents per $100 valuation. This rate covers expenses like teacher salaries and school property maintenance.

However, Shannon Braun, president of the Grapevine-Colleyville school board, told Dmagazine that she questions if the new compression will actually benefit school districts, while it might result in lower recapture payments, it doesn't mean the money will be reinvested in schools.

"Right now the state is claiming that they did help recapture," she said. "And it does go back to the taxpayer, and schools that are in recapture will pay less, which is great—our payment could go down to $45 million. But that money, it's still a lot for schools, and it's still not going back into the school."

Keller ISD trustee Chris Coker, echoed Braun's sentiment, questioning why the Legislature didn't do more for school districts with their multibillion-dollar surplus.

"The reality is the state is sitting on a multibillion-dollar surplus," Coker told DMagazine. "And the argument that, in lieu of them giving us more money that we should just give them more money instead of funding schools appropriately, is absolutely asinine."

The Hostage Situation
During the regular session state lawmakers declined to pass a comprehensive school funding plan, despite strong public support and a historic budget surplus.

The only school funding bill with potential, House Bill 100, was worth $5 billion in formula funding for public education, and addressed the basic allotment, moving from average daily attendance to enrollment-based funding, raising the minimum salary schedule for teachers – guaranteeing an automatic pay raise for 70,000 teachers – and other key education priorities.

However, the bill died in the House after the Senate backed Gov. Greg Abbott's voucher plan and modified it drastically. The HB100 went back to the House with significantly less money allocated to teacher pay raise but with $500 million set aside for a voucher-like program (education savings accounts, ESAs)

As the voucher titanic sunk, so did school funding, leaving school districts without a lifeline, and many are struggling to secure funds to keep their ships afloat.
Teacher salaries in Texas trail the national average by about $6,000, according to the most recent figures from the National Education Association labor union. In addition, teacher wages have essentially stagnated over the past decade when adjusted for inflation, according to a report released last April by the Texas American Federation of Teachers Union and the left-leaning think tank Every Texan.

What Does The Future Look Like?
Presently, districts face dual budget challenges. First, they won't know until the November vote whether voters will approve the compressed property tax rate. Second, the state legislature likely won't address school funding until October at the earliest, compounding budget uncertainties.

In any case, many districts don't receive state funds at the beginning of the school year. Stephanie Elizalde, Dallas ISD's superintendent, emphasized the financial challenges faced by districts, particularly those in rural areas.
"I think some people don't realize that I have to write a check to make payroll in August—and I don't get money from the TEA in August," Elizalde told DMagazine. "We don't get those funds until part of the first quarter is already completed."
The absence of regular session school funding legislation only increases districts' frustration. The only glimmer of hope left is October's special legislative session for education.

In June, Texas House Speaker Dade Phelan announced the House Select Committee on Educational Opportunity and Enrichment which will focus on issues that "broadly affect educational opportunities for K-12 students in Texas."
The committee, led by Rep. Brad Buckley (R-Killeen), with Rep. Barbara Gervin-Hawkins (D-San Antonio) as vice chair, released a report regarding public education in August.

The report laid out recommendations for the teacher workforce, school finance, student outcomes, and school vouchers.

Regarding vouchers, two key recommendations are highlighted. Firstly, there is a focus on Parental Choice Programs with Accountability, emphasizing transparent criteria, prioritizing students in need, and ensuring academic benefits while maintaining fiscal responsibility.

Secondly, the proposal suggests a Comptroller-Administered Scholarship Fund funded solely by private contributions, aiming to address concerns about taxpayer-funded vouchers.

However, it's uncertain whether these recommendations align with Gov. Greg Abbott's preference for a more extensive school choice package during the 88th legislative session.