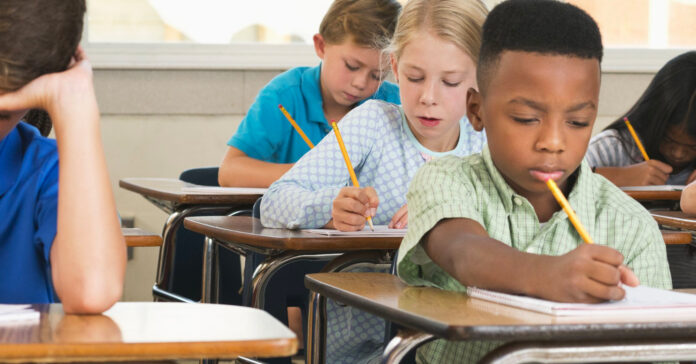 Ever since the pandemic started, schools were shut down and forced to say "sayonara" to the State of Texas Assessments of Academic Readiness test. This year, the STAAR test will be making its comeback.

Even though this is a big step towards normalcy, the test comes with a few adjustments. According to The Texas Tribune, for this year only, schools will receive an A-C rating. Districts and schools that score D or F will receive a "Not Rated" label instead – this will allow districts that still have a D or F from 2019 to get a shot at a better grade.

It is also possible that schools that fall in those bottom categories will not receive sanctions from the Texas Education Agency during the 2022-2023 school year.

The ratings – letter grades affixed on school buildings – are typically released by the Texas Education Agency in August.

The three criteria schools are graded on are student achievement, student progress, and how well the school is closing its learning gaps. STAAR results measure progress, which is one of the criteria that weighs the most.
According to Frank Ward, a TEA spokesperson, the test results allow parents, teachers, and schools to see how individual students are performing to better support them.

"There is extensive evidence that the process of setting reasonable goals for schools and publicly reporting on progress towards those goals improves the kinds of academic support our students receive."

However, the STAAR test has always had its critics who are not big fans of the school rating system.

Lawmakers and teacher unions called on the state to get rid of the exam for this spring, citing that teachers, administrators and students are still feeling the effect of the ongoing COVID-19 disruptions.

"The STAAR test administration is cumbersome and time-consuming," Zeph Capo, president of the Texas American Federation of Teachers, said earlier this year in a written statement. "Parents and educators share concerns about learning loss and the need to support our children after two years of disruption."

Another avid supporter of scrapping the STAAR test is Beto O'Rourke, who since 2018, suggested that at a federal level Texas should be taking the steps towards "empowering teachers to fulfill their calling by having the autonomy to teach to their students and not to arbitrary, high-stakes tests."

Agreeing with O'Rourke is Monty Exter, a lobbyist with the Association of Texas Professional Educators, who believes that the STAAR test incentivizes schools to teach for the test instead of taking a holistic approach to teaching.
"Teaching people how to test is frankly a completely worthless skill," Exter said.