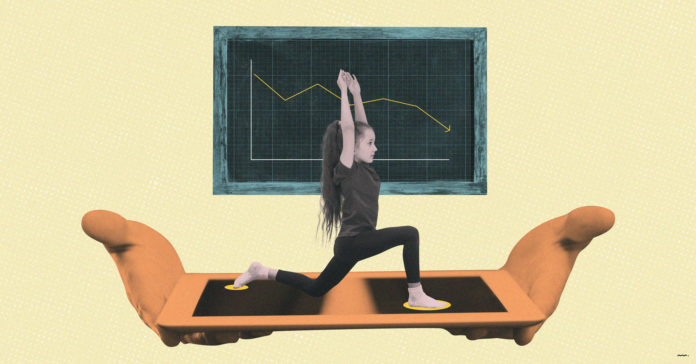 Report cards are not looking good from the COVID-virtual classroom, and show that thousands of students are failing at least one subject, skipping assignments, or not signing-in to their classes. The shift to virtual learning and a brand new learning model has led to kids in Texas without the support they need to be academically successful, and they are falling behind.
This month, the Austin American-Statesman reported that Austin students are barely squeaking by, and schools in San Antonio are allowed to "extend grace" for students to make-up assignments and adjust their school handbooks.
Many students are at a disadvantage because they still don't have computers or broadband access, despite school district efforts to bridge the digital divide, said Clay Robison, public affairs specialist for the Texas State Teachers Association.
Robison says that while the measures for safety against COVID-19 has meant changes to keep students, school employees, and their families as safe as possible, and by necessity, reinventing how public education is delivered, grades aren't always catching up, and despite the best efforts of teachers, some students are lagging.
Failing grades meet the digital divide.
After a delayed school year, with grades dependent upon having the internet, and adapting to the new virtual learning process, even if a student understands the classwork the process of completing assignments can be confusing, if not impossible for some students to maneuver.
Then there's the digital divide. Through the fall, many students in Texas had difficulty accessing virtual learning tools such as a laptop and WiFI hot spots. Also, consider that some Texas families could barely afford internet access in normal times. School districts in Central Texas are still asking for state funds to bridge the divide even as we reach the end of the second grading period.  
The Dallas Morning News reported problems students have had with hot spots in south Dallas, the drastic increase in internet service cost, and that a third of Dallas families have been without service.
Will Texas kids take the STARR test?
The State of Texas Assessment of Academic Readiness, known as the STAAR exam, measures a student's academic growth in reading, writing, mathematics, science and social studies.

While decisions are being made still about whether Texas kids will take the STAAR test, this week, 70 members of the Texas House of Representatives issued a bipartisan call to state leaders to suspend standardized tests, the Houston Chronicle reported. 
Although this year clearly hasn't been normal for students, fourteen Texas school superintendents are in support of standardized testing happening this spring.
Teacher groups and experts are concerned about Texas kids.
Although elementary and middle school students will still advance to the next grade regardless, there is considerable concern about academic performance and preparedness from teacher groups, educators and experts.
Adding STAAR testing to the mix is preposterous, says Robison. "TSTA supports the efforts of the large number of legislators, both Democrats and Republicans, who are asking the state education commissioner to cancel STAAR this year," he said.
Can kids that are struggling catch up?
"Where necessary, we can catch up with grades later. Depending on the severity of the pandemic and how effectively teachers keep adjusting, some students may be able to catch up on their grades later this school year. For others, it may take longer," said Robison.
"As a professor and a mom, I know how challenging the pandemic has been on teachers, students and parents," Amber Thompson, a professor at the University of Houston College of Education who oversees the teacher education program, said on Friday.
"We're all doing our best to be flexible and adapt. It's good for teachers to re-evaluate assignments and ask, "What's most important for students to learn, and how I can best assess if they have learned it?"
Building in flexibility on assignments to account for challenges such as weak internet or siblings sharing devices is important to be acknowledged this year, says Thompson.
Thompson says well-designed assignments and assessments should result in grades more fairly reflecting a student's performance. "Right now, a student's emotional well-being and academic progress over the course of the year is more important than a grade on an individual test. Parents can help by encouraging their children and providing a sense of structure."
Robison explained that some teachers may be grading more on whether students are completing assignments and how engaged they are in their work, not necessarily on how well they are doing their work. "They believe students should be held accountable for participation and effort and their learning deficits should be identified but not necessarily punished with a failing grade during these unusually stressful circumstances," he said.
What can this year teach us about the values of education?
Thompson says the pandemic has highlighted the educational inequities that disproportionately impact low-income families and students of color. "I hope that we can come together as a society to recognize the value of well-prepared teachers and provide the resources and support all students deserve," she added.