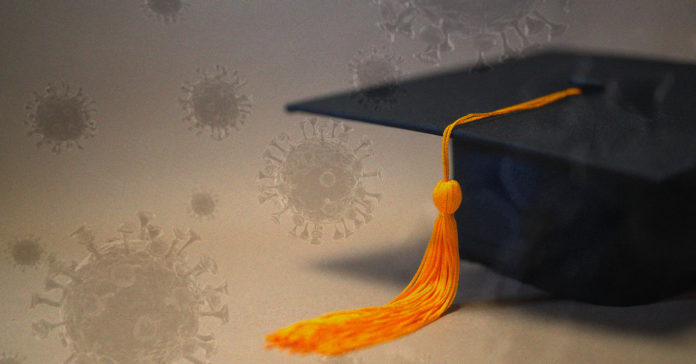 "Texas hasn't returned to normal yet," said Pat Heintzelman, president of the Texas Faculty Association and an instructor at Lamar University in Beaumont.
TFA is calling on universities and private colleges to forgo in-person commencement ceremonies this fall. The group is urging Gov. Greg Abbott to step in and order state university governing boards to hold virtual graduation events, postpone or cancel fall graduation ceremonies altogether.
"Many faculty members around the state report that their universities are scheduling in-person fall graduation ceremonies, which will require faculty to attend and will allow family members to be present. With the resurgence of COVID-19 cases in Texas, we think this is a dangerous idea," said Heintzelman.
"We are still in the middle of a deadly pandemic, and we fear in-person graduation events that include families and more than a handful of faculty members will be super-spreader events for the virus," she added.
The teacher's union is basing its request to Abbott on rising COVID-19 cases and hospitalizations, which have increased "more than 70 percent" since the beginning of October.
"The last thing we need are more large public gatherings. Universities should set the example for health and safety," Heintzelman said.
Some Graduation plans are in the works now.
J.B. Bird, director of media relations at the University of Texas at Austin said that discussions are active about how the university can have an in-person spring commencement.
Texas A&M University is preparing for 15 commencement ceremonies in December for the 4,000 Aggies who will graduate at the end of the fall 2020 semester. The university will have 18 additional graduation ceremonies in February and March 2021 to make up for commencements that were postponed due to COVID-19. 
According to Rice University's director of news and media relations, Doug Miller, it is too soon to tell.
"With so many uncertainties still surrounding the pandemic, Rice isn't yet in a position to make any decisions on how commencement will take place," Miller explained in an email on Tuesday.
Shawn Lindsey, University of Houston executive director of media relations and a member of the COVID-19 Response Team, provided a statement to RA News about UH's graduation plans.
"The University of Houston will confer degrees in a virtual university-wide commencement ceremony on Thursday, December 17, which includes spring 2020, summer 2020 and winter 2020 graduates. Following this ceremony, select colleges will host virtual celebrations.
We acknowledge the disappointment and dissatisfaction that the postponement of an in-person commencement ceremony has caused our graduates this year. We are committed to inviting back graduates to a future, in-person ceremony when it is safe to do so."
At Baylor University, there will not be December commencement ceremonies, but fall semester graduates will be allowed to participate in the commencement ceremonies scheduled for May 2021, said Assistant Vice President of Media and Public Relations Lori Fogleman.