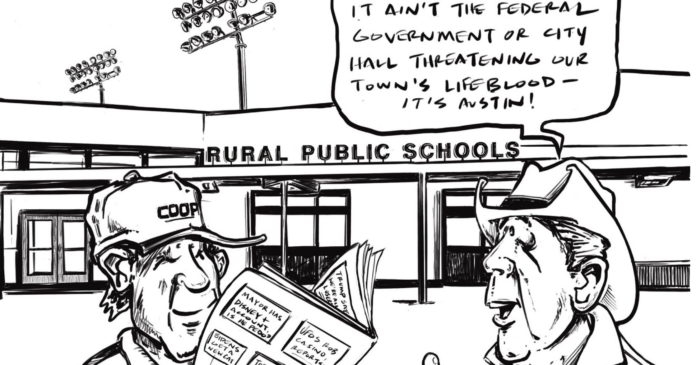 With Gov. Greg Abbott's announcement that he'll pursue "school choice" in the upcoming Legislature, there's political math to be done.
The governor's proposal is pencil whipping his previously reliable rural voting base, presuming that rural communities will stick with him as he looks past the November match-up against Beto O'Rourke, and moves to the next problem of Florida Gov. Ron DeSantis, a probable 2024 presidential foe. But in rushing to check off another box on the national GOP purity exam, questionable work has been submitted.
Out where rural public schools constellate expansive Lone Star landscape, out where the real Texas economic miracle of food, fuel, and fiber is produced, there's pencil scratching being done.
Rural folks know school choice will come at their expense. Almost like the same-old bait (moral convictions) and switch (economic interests) over and over. It's been that way for more than 30 years, since the GOP came to power promising term limits and local control — and how has that gone?
We've voted for plenty of slippery-as-slop-jar scenarios, like numerous federal officials who vote against subsidies for the state's $25 billion annual agriculture industry. In 2018, cotton had fallen out of a federal funding program to help producers break even, and it was Abbott who single-handedly stalled restoration from Austin. We've closed 26 hospitals since 2010. Now just 163 hospitals provide care for 85% of the state's geography, many with limited services. We've incrementally upped local property taxes to fill state budget holes over three decades. And Abbott's routing of state infrastructure, including pivotal rural telecommunications by his commissioned appointees, could make Santa Anna blush.
But the missing variable in the slippery school choice proposal is the importance of public schools to respective rural communities — and the pillars of community within those schools. I know because I attended them.
Gid Adkisson, a gargantuan man, long in kindness as he was physique, was a retired school superintendent in Abernathy (population 2,904, about 25 miles north of Lubbock) with a bad lifelong cotton farming habit. He'd head out from his homestead to the high school for Gid Night Lights to voluntarily tutor us in algebra on Mondays and Thursdays, so we could play under the Friday Night Lights.
Children, even deviant teenagers like I was, know goodness when they see it. When I first think of Gid, I don't picture him physically; I think of his heart. The physical trait I most remember is the big dent on his forehead that shone in the lights of Ms. Hardin's classroom.
Bettie Hardin was a petite, put-together woman — pristine white perm, horn-rimmed glasses, mock turtleneck. She played the Methodist piano every Sunday morning with the same precision she expected from our math during the week.
Sports were our world. And Ms. Hardin could end that world with the swipe of a red pen.
But Gid came to the rescue, helping us understand it all. The first time I figured out ratio and proportion equations, Gid was right there, two huge knuckles on the desk behind me, affirming and encouraging me as my mind translated through pencil what Hardin and he had worked so hard to cultivate. When the problem was solved, the huge knuckles rose above the suspenders past the dent and to the lights, "Good, golly. You got it."
I don't today use an acquired high school skill — from on or off the field — more frequently than that equation.
Sitting in Wayne Riley's 6th Grade Sunday School with half a dozen others was the first time I ever first-hand witnessed a grown man weep; we'd know him later as Coach Riley, our varsity basketball coach.
When my grandmother passed, I was destroyed and my band teacher Harold Bufe took a knee and consoled me about the loss of my world and his longtime friend.
When Gid died, many of us learned what we didn't know all along: he'd been rescuing people for a long time. He led the 317th Regiment, 80th Infantry Division up Utah Beach where dented-head man earned, but later refused, a Purple Heart. Too many missing human variables under his command for him to accept such an award.
Public education gave us a tutor who defeated Hitler, coaches who earned our respect, and band teachers who helped us outside the notes. And Ms. Hardin who played Amazing Grace as the soundtrack.
My story isn't uncommon, which is the point.
We'll vote against ourselves on a myriad of issues, but not our schools.
Add to it all, rural folks know a little grammar as well.
"Choice" is a political synonym for "consolidation" and "consolidation" is another way of saying "closing" our communities — and our organists, Purple Hearts, and Sunday school teachers.
The political math for Abbott and statewide Republicans is they desperately need rural Texas votes to overcome deficits in the likes of Dallas, Tarrant, Travis, and Harris Counties. Their campaign commercials running longer loops every four years are evidence.
And while Oltons, Borgers, Ballingers, Floydadas, Abernathys, and the 85% of Texas geography won't become Beto O'Rourke Country anytime soon, if ever, these places might just not vote.
Pull the lever, do your duty, get the sticker, but leave the gubernatorial box left open.
The collective rural Republican state representative silence on the governor's initiative is already telling. Silence from electeds who backed Abbott's $118 million for pre-K public education funding in 2015, only to have Abbott abdicate in subsequent far-right primary challenges.
Mr. O'Rourke may well come for some of our guns, but that's highly unlikely with a legislative and judicial GOP stronghold.
But Abbott's open threat is against the lifeblood of our communities: our schools. And he's making it with a three-branch majority.
That's Abbott's math now. And Gid's currently unavailable to tutor.
This story originally appeared on The Dallas Morning News. Reform Austin was granted permission from the author to republish it. To read this article in its original format, click here.

Jay Leeson is a freelance writer and artist in Lubbock. He wrote and illustrated this for The Dallas Morning News. To see more of his art, click here.