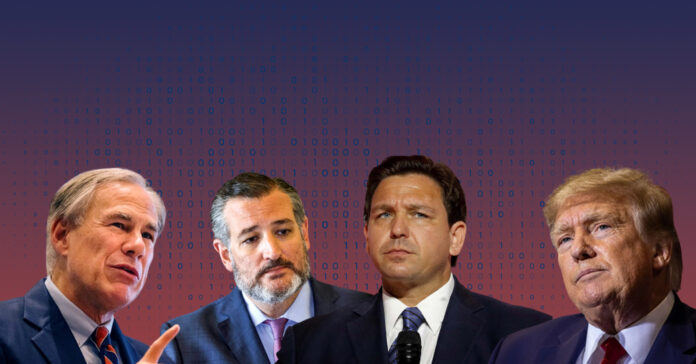 Conservative Political Action Conference (CPAC) straw polls are one of the ways that Republicans measure part enthusiasm for rising stars. Governor Greg Abbott is not one of those according to the most recent one, where he netted zero percent.
The most recent CPAC event was held in Dallas over the weekend, and it was clearly still dominated by Trumpism. In one bizarre art installation, a man named Brandon Straka sat in a fake jail cell pretending to be incarcerated over the January 6 insurrection. Straka previously pled guilty to Engaging in Disorderly and Disruptive Conduct in the Capitol Building or Grounds and received 90 days home confinement as a punishment.
With such Trump-connected pageantry on display, it's little wonder that the straw poll showed former President Donald Trump well out in front. He received 69 percent of the vote when it came to who the 1,000 attendees wanted to run for president in 2024. The event predated the raid on Trump's Florida home by the FBI, though there's little reason to assume it would have made him less popular at CPAC.
Aside from Trump, only Florida Governor Ron Desantis made a decent showing, netting 24 percent. Senator Ted Cruz received 2 percent, and Abbott didn't crack the 0 percent mark.
The poor showing for Abbott is a sore blow to the governor's prospects. Though he has not announced anything, most Texas political experts expect Abbott to throw his hat in the ring for the 2024 Republican nomination for president. Many of his far-right moves over the past year, from rolling back voting rights and access to justify the false claims of election fraud to trying to investigate the parents of trans children for child abuse to the horrific bounty hunter law for people seeking abortions to bussing captured border crossers to Washington D.C., have seemed like moves to boost his conservative bonafides to observers.
While his rightward movement seems to have fended off more conservative challengers when it came to the Texas Republican Primary, it hasn't been enough to overshadow Trump himself. If the straw pool is anything to go by, Abbott has little hope of challenging Trump for the nomination should Trump run.
In fact, it appears that Abbott may have stalled his own rise with his actions. Though few good polling has been done since the fall of Roe v. Wade, Abbott's chances in the FiveThirtyEight election forecast have been ticking down at a small, but steady rate. While Abbott remains the clear favorite, the rollback of abortion rights appears to have energized Texas Democrats and angered independents. 
It will be impossible to tell if Abbott's alleged shot at the presidency is going to cost him the governorship until more high quality polling becomes available, but the straw poll held in Dallas bodes poorly for him getting national support. At this point, his ambitions look like they have fizzled even as the Republican Party further embraces the hard right positions he has championed.