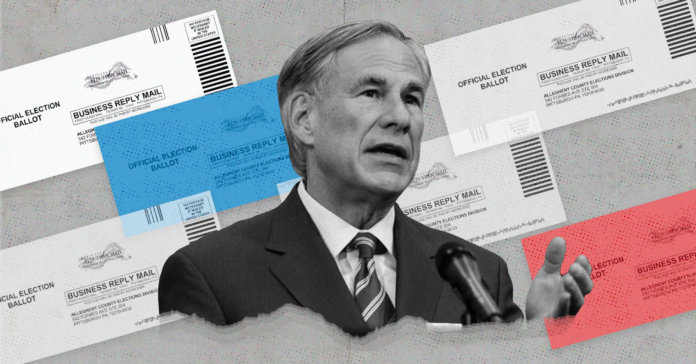 During the 2020 elections, Governor Greg Abbott was praised for extending Texas' early voting period by a week to help deal with the restrictions caused by the ongoing COVID pandemic. Now, he is launching a slew of voting restrictions that will likely do far more to curtail legal voting than prevent the minimal amount of fraud that exists in the state.
"Any voter fraud that takes place sows seeds of distrust in the election process. The more distrust in the election process the more that it challenges the fundamentals of democracy itself," Abbott said in a recent Houston press conference. "There is an obligation … that we remove that distrust by ensuring that we do all we can to ensure that every eligible voter will be able to cast a vote but no one will be able to cast an illegal vote."
The governor was flanked by Texas Senator Paul Bettencourt (R-Houston) and Rep. Briscoe Cain (R-Deer Park). The latter has been a key part of the larger "stolen election" conspiracy theory that led to the attempted insurrection at the U.S. Capitol on January 6 and also serves as the chair of the House Elections Committee. Cain traveled to Pennsylvania to be a part of former President Donald Trump's legal efforts to overturn the election in that state, claiming massive fraud. None was found.
Abbott's call for new election restrictions are aimed at local governments for taking initiatives during the pandemic to expand access to people worried about contracting the coronavirus while exercising their rights. One of these efforts was Harris County's opening of drive-thru voting. Abbott himself dodged stating any position whether the practice was legal at the time, but subsequent lawsuits stating the practice was an illegal expansion of voter rights filed by conservative activist Steven Hotze, state Rep. Steve Toth of The Woodlands, congressional candidate Wendell Champion and judicial candidate Sharon Hemphill were rejected by the all-Republican Supreme Court.
Shortly after Abbott's press conference, the Texas legislators filed a slew of new bills. Some of them have extremely bizarre justifications for curtailing voter access. Rep. Jared Patterson (R-Denton), has filed a bill that would limit voting to only between 6 a.m. and 9 p.m., a clear attempt to thwart future overnight voting practices that happened in 2020. His reasoning?
"Momma always said nothing good happens after midnight. That includes at polling places," he tweeted, apparently believing that election monitors are reverse vampires who must be hidden when the sun goes down.
Mail voting is a particular target, which is not surprising considering that mail-in voters are heavily Democratic and President Joe Biden came within 5 percentage points of winning the traditionally red state. New bills would shrink the period when voters could return mail ballots as well as require photocopies of driver's licenses or other qualifying identification with mail ballots. There is no evidence any of this would prevent voter fraud.
In fact, there's no evidence that voter fraud is even a problem requiring two dozen new bills in the Legislature. Abbott alluded to local elections that had been overturned through fraudulent means but failed to name specific cases. He is likely referring to a Gregg County Democratic primary election for county commissioner in 2018, where 38 applications for mail-in ballots were fraudulently obtained. The man involved, Shannon Brown, was caught and indicted.
Voter fraud is incredibly rare and nearly always caught before it can have an effect even on very minor races. A major initiative by Attorney General Ken Paxton that spent 22,000 man hours hunting fraud in the 2020 election found only 16 cases of voter fraud out of the 17 million Texans that voted that year. All the cases involved false addresses, and none of those caught served jail time. The number was actually down from 2018, when twice as many were prosecuted.
State Sen. Bryan Hughes (R-Tyler) is behind the main legislative push. One of his wrinkles is to begin fining local officials who do not purge voting rolls quickly enough. Voter roll challenges are a favorite voter suppression tool in Texas, where anyone can submit a challenge to names on the voter roll for purging. The Harris County Republican Party famously used the lax restrictions for challenges to go after marginalized voters in 2018, including the homeless.
The overall thrust of the bills is to prevent any sort of local election official from making decisions to ensure votes are counted, everything from waiving signature requirements on ballot verifications to banning voting in garages so that no drive-thru voting can occur. All of them are based on debunked claims from the Trump campaign that only massive inconsistencies could explain his decisive loss in 2020.
Texas leadership is using the popular opinion – believed by three-quarters of Republicans regardless of evidence – in order to target any practice that has made voting easier for marginalized people. Expect an avalanche of lawsuits to match the scope of their scheme.