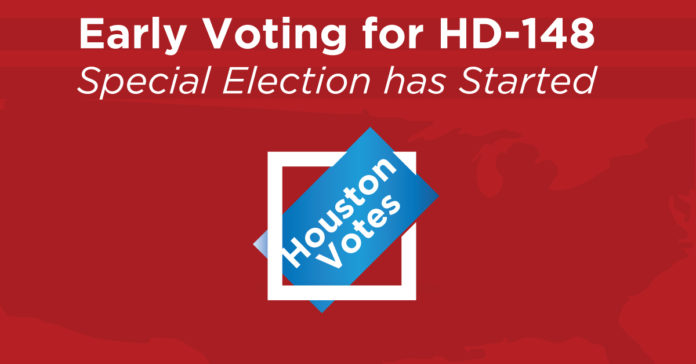 The first day of early voting in the Texas House District 148 special election began Monday, Oct. 21. The vacancy for the seat was created when the previous State Representative, Jessica Farrar (D-Houston), resigned on September 30th.
Early voting will continue through Friday, Nov. 1, 2019. Election Day is Tuesday, Nov. 5, 2019.
Polling locations and timings for Early Voting can be found here.
On the ballot are 12 Democrats – consultant Michele Leal, paralegal Adrian Garcia (not the County Commissioner), teacher Kendra Yarborough Camarena, former HISD board president Anna Eastman, former Senate District 6 candidate Mia Mundy, former County Commissioner Precinct 4 candidate Penny Shaw, general surgeon Tera Isaacson, teacher Carol Denson, firefighter Rob Block, communications professional Anna Núñez, and attorneys Chris Watt and Alva Treviño – two Republicans – Navy veteran Luis La Rotta and former House District 148 candidate Ryan McConnico – and one Independent, attorney Chris Carmona.
Michele LealAdrian GarciaKendra Yarborough CamarenaAnna EastmanPenny ShawMia Mundy Terah IsaacsonCarol DensonRob BlockAnna NúñezChris WattAlva TreviñoRyan McConnicoLuis La RottaChris Carmona
Here is our voter guide.
Reform Austin will continue to follow the special elections and report the results. If no candidate earns 50 percent or more on Election Day in any of the three districts holding a special election, a runoff will be held several weeks later.