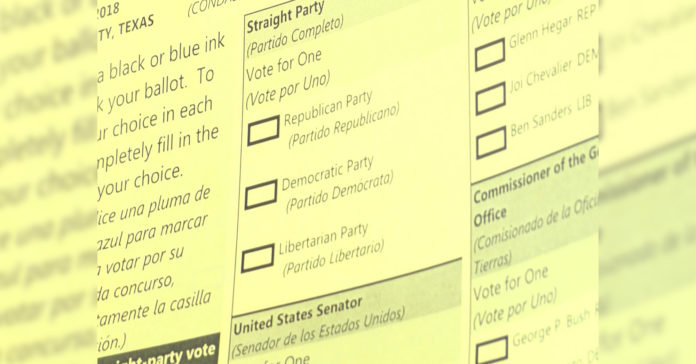 In a ruling surely to be quickly appealed, a federal district judge has reinstated straight-ticket voting in Texas for the November election. The ruling came in a lawsuit filed against Texas Secretary of State Ruth Hughes in Laredo, a Texas COVID-19 hot spot, by Democratic groups and the Texas Alliance for Retired Americans.
The plaintiffs claim that the lack of straight-ticket voting would cause long lines, burden Texas voters, have a disproportionate effect on the African-American and Hispanic populations and decrease turnout for the Democratic Party.
In issuing her ruling, Judge Marina Garcia Marmolejo took the state of Texas to task for not doing more to ensure voters will be able to safely cast their ballots during the pandemic.
"Granting this injunction is in the public's interest," Marmolejo wrote. "Texas' rules around voting during the pandemic have been perplexing. Administering in-person voting the same way it has been administered for almost 100 years is not about a mere convenience to voters, it is about running an efficient electoral process that guarantees Texans a more effective opportunity to cast a ballot in time where any additional time spent in line endangers the safety of voters, poll workers and others not at the polls."
Republicans in the Texas legislature voted to eliminate straight-ticket voting after it was used by Democrats to sweep many Republicans out of office two years ago.