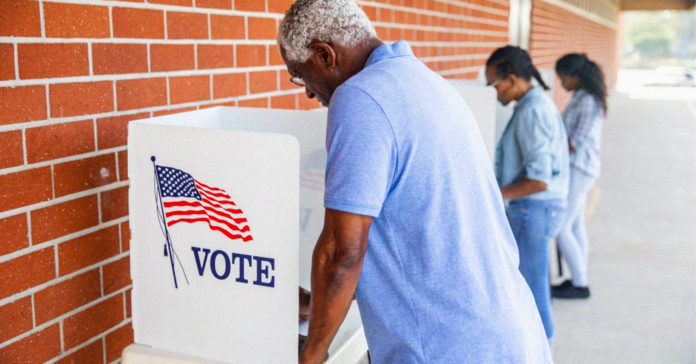 Black Americans have been disproportionately harmed by the COVID-19 pandemic and by police brutality. People all over the world have responded to Houstonian George Floyd's death in police custody by protesting online and in person.
So with a presidential election less than six months away, what does this moment in history mean for efforts to increase black votership?
"Hopefully, this will be like Rosa Parks. She wasn't the first person arrested on a bus, but it was her that spearheaded the Civil Rights movement," said Distinguished Professor James M. Douglas, interim dean of Texas Southern University's Thurgood Marshall School of Law. Douglas also is president of NAACP-Houston.
"This is day eight. People are still out in the streets, and I don't ever want to see anyone die, but hopefully his death is a game-changer," Douglas said in a phone call Wednesday.
He sees the internet as a place to build community.
"A lot of carrying out the vote depends on how well-educated people are," Douglas said.
"The enlightenment that is going on will provide a platform, to education about the importance of voting and the effects of not voting."
Douglas said GOTV activity will get underway soon.
"We have gotten the attention of young people, and they are upset because of what they see in terms of leadership," Douglas said. "If we don't convert that new thought process to action, then we will have lost a wonderful opportunity to make change."
"We have to capture this movement we see now. We have to capture it in November," he said.
Michael O. Adams, interim chair and program director of the political science department at Texas Southern University, also compares today to the 1960s.
"This graphic display of George Floyd's death set off a firestorm," Adams said on the phone Wednesday. "Where do we go from here? If there is going to be a meaningful change you have to reflect on history. Look at the late 1960s."
Adams said many problems have to be seen in the prisms of social and economic systems. He mentioned income inequality, the unemployment rate, health care problems, the pandemic realities, and struggles that the African-American population is seeing.
"At the heart of the situation, we have to talk about our society in terms of racism. This energy has to be translated into positive change via the vote," Adams said.
Women
Speaking of voting, the Texas Democratic Convention hosted panel discussions today that included issues such as the importance of black Americans' votes.
"We know that black women are the core cornerstone of the Democratic Party," said Carroll Robinson, chair of the Texas Coalition of Black Democrats.
Tracy Scott, president of the Black Texas Women's Political Action Committee, said black women are making strides but need better economic lives.
"Black women are leaders in our community, leaders in our household, and we're making strides in elected offices and corporate America. But at home, we need the balance of financial security and economic justice," she said.
Students
Get-out-the-vote efforts on college campuses may ramp up this fall despite the pandemic.
Here's a look from Prairie View A&M University, which is located in an area full of political history, where the right to vote has been through immense hardship.
Nathan Alexander III, a 2020 Prairie View A&M University graduate, is on the ballot this year for the City of Prairie View City Council.
"This upcoming election will be seen by historians as probably one of the most important in a generation," Alexander said in an email Wednesday.
"We look forward to bringing this vital message to our campus for this upcoming election," he said. "We will start registering all freshmen during this orientation period. We hold events throughout the campus and invite many local candidates on the ballots to come out and speak their platforms so students will be able to make an informed decision when deciding who they will choose to represent them in these offices."
Alexander reflected on a memory of getting out the vote before the pandemic.
"One of my favorite memories here at PVAMU regarding fighting voter suppression has to be when the student body showed up to city hall in mass numbers. We began to let their voices be heard, to a mayor who had recently sent a letter to the county judge that moved our voting poll off-campus."
"Another favorite would have to be the two marches that I had the opportunity to help coordinate. To see students leave class and march to the polls was outstanding."
Jayla J. Allen, a 2019 graduate from Prairie View A&M University and Democratic precinct chair, is concerned about how voters of color will fare.
"In the wake of COVID-19, voting in any election within 2020 has now become extremely difficult. Just last week, the Texas Supreme Court voted that they would not expand voting by mail for the residents in the state of Texas," she wrote Wednesday in an email.
"With a virus and no vaccine in sight, paired with the history of voter suppression tactics used in the state of Texas, I'm almost afraid of what is to come for this upcoming election cycle. Past elections have shown us rural, under resourced, and communities of color are often impacted the most."
"It's extremely important for us to not only emphasize the political state that we are in as a country right now but also what it will look like voting in the midst of a pandemic," Allen wrote.
"We're preparing for both in-person and virtual workshops, town halls and voter registration drives. We're unsure of what the next few months will hold, but we are committed to ensuring the PVAMU community is headed to the polls in November and with equal opportunity to do so," she said.
On the phone Wednesday with Frank D. Jackson, who served for 14 years as mayor of the City of Prairie View, said, "it's time for America to have a wake-up call. We cannot ignore people of the earth. Humanity is linked together."
"We need to quit this political madness. We need people who think like this, not about building bigger bombs. We need to fix stuff that's broken."
Jackson left office in 2016, but for decades he has been working for student voting rights and breaking down barriers while building relationships across boundaries.
He learned to ask early on, "'how do you pull people together?' People from all backgrounds really do share the same hopes and fears."
"George Floyd is bringing it home," he said.
Jackson believes humanity has been lost, and that is time to gain consciousness and fight together.
In referring to the protests over Floyd's death in the past week, Jackson said, "I saw hope out there."