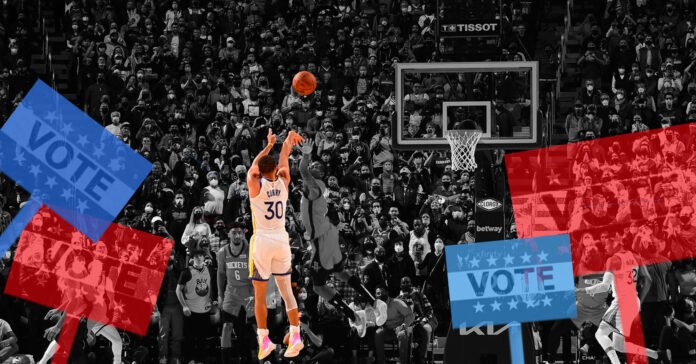 The 2022 midterm elections are a big deal, and some organizations are trying to increase civic participation in big ways.
This week, the NBA announced that it would not hold any games on Election Day, November 8. Instead, all 30 teams will play on Monday, November 7 in a Civic Engagement-themed night. In previous years, the NBA held regularly scheduled games on Election Day, anywhere from four to eight contests since 2014, according to NBC correspondent Shaquille Brewster.
Any promotion of voting in a midterm is a good thing as Texas has traditionally had a very dismal turnout in non-presidential election years. In 2014, the state had the second worst voter turnout in the entire country, 28.5 percent. That trend has turned around some in recent years, mostly thanks to the blockbuster campaign of Beto O'Rourke against Sen. Ted Cruz in 2018, but it remains to be seen if that was a blip or a sign of long-term change. Though primary election participation was at an all time high this year, the effects of the voter rights and access restrictions bill that was passed last year may depress turnout.
It's certainly not the weirdest way people have tried to get out the vote in the state. Ahead of the 2020 presidential election, Jolt Initiative partnered with teenage girls in the state to have voter registration cards available at quinceañeras. The Poder Quince initiative now offers free photo booths at celebrations in exchange for helping register voters.
"When young Latinas traditionally celebrate their coming of age into womanhood, they also celebrate and honor their family for being at their side," says the Jolt website. "What better way for your daughter to honor her family than by pledging to defend them and your community by voting?"
Texas Public Radio has also gone an unconventional route when it comes to promoting voting. In their case, it's a video game called Voting In Texas: The Game. Scripted and produced by journalist David Martin Davies, the game is more concerned with showing people the possible pitfalls they may run into trying to vote in a state where Republican leadership has been cracking down on access. As a free, in-browser title, it's easily accessed by anyone with a computer.

The best thing about the game is how it informs potential voters of things they may not know, such as how the last day to register to vote in the general election is October 11. While hardly Elden Ring, the game does give players a reasonable facsimile of the difficulties voters can run into when casting a ballot in Texas.
As the registration cutoff date gets closer, we can expect more inventive ways to try and entice people to the polls for the midterm. It's worth remembering that many of our current leaders, such as Governor Greg Abbott, were initially voted in during midterms with low turnouts. In Abbott's case, he was elected in 2014 by less than 11 percent of the total population of the state. It's hard to make a case that the will of the people is being done when 90 percent of the state didn't actively choose the governor.