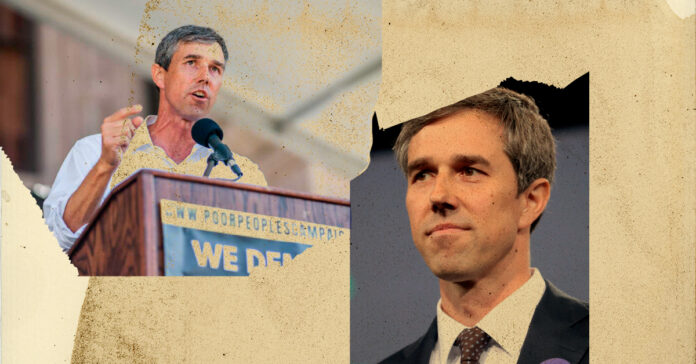 On Monday, Beto O'Rourke announced his campaign for Texas Governor. Not unlike his 2018 campaign, he plans to go door by door around the state to listen to Texans and talk about his candidacy.

His first stop was at a rural health care roundtable in Fort Stockton, Texas, Peco County.
O'Rourke listened to testimonies from doctors who talked about struggling to meet the demand for care during the pandemic, including 73,000 Texans who died from COVID-19, "many unnecessarily because of the confused leadership of the governor," O'Rourke told Newsweek.
He pointed out that what was critical and different from his run in 2018 – where he lost by 2.5-points to Senator Ted Cruz – is "where Texas is standing right now." O'Rourke told Newsweek that he believed Texans could find more common ground now, even on contentious issues, pointing out how most people agree they shouldn't have to worry about being killed by a weapon designed for battlefield use, criticizing Abbott for backing the state's new laws allowing permitless carry of handguns.
Facing an incumbent governor with a $55 million budget in a traditionally red state, O'Rourke admits that the race is going to be an uphill battle.
Running against all odds, the first two days of his campaign showed that he was recalibrating. After Fort Stockton, O'Rourke headed towards San Antonio, where his campaign pitch focused on issues that are very popular with his voters; Medicaid and legalizing Marijuana.

He called them "commonsense things that all of us agree on," with majorities of voters telling pollsters they back Medicaid expansion and legalizing possession of at least small amounts of pot, as reported by The Texas Tribune.
He also criticized Abbott's support of the new permitless carry of handguns and banning most abortions. Both laws were unpopular among Texas voters, even though abortion has always been a polarized topic, the new law giving private citizens the power to enforce it is clearly disliked.

O'Rourke said the law "places a bounty on the heads of every woman in this state who wants to make her own decisions about her own body and for her own future."

To counterattack the GOP's claims that he will destroy the oil and gas industry that is vital to the Texas Economy, he presented a Texas AFL-CIO plan that would strike an important balance.

When it comes to climate change, "we've got to make sure that … we're creating the jobs that meet that challenge," O'Rourke told reporters. "The AFL-CIO has a plan to create more than a million high-wage, high-value, high-skilled jobs right here in Texas that add to — do not replace, add to — oil and gas jobs in this state."
O'Rourke focused part of his pitch on one major issue that would set him apart from President Joe Biden: The border.
Suggesting President Biden could do a better job and be more compassionate, he told the CBS affiliate in Dallas, that "It is not enough of a priority for his administration." His attack on Biden comes at a time when the president's approval rating in Texas is dropping, especially on his handling of the border.
After San Antonio, he headed to Laredo, a strategic choice since in the 2018 Democratic primary for U.S Senate he struggled in that region.

After speaking he was praised with leading chants of, "Go, Beto, go!" and a mariachi band took the stage. O'Rourke stuck around for a photo line that stretched the length of the parking lot where he spoke, as reported by the Texas Tribune.O'Rourke has a long way to go if he wants to change minds and shrink potential vulnerabilities and not a lot of time to do so.
"I think people in Texas understand the consequences of Abbott's failed leadership," he told Newsweek. "And many who perhaps before, including in 2018, would not have been open to voting for a Democrat are ready for an alternative, especially if we keep this focused on jobs, schools, and on health care."
His entrance to the race came just under a year before the election, and just under a month before the candidate filing deadline for the March primary.